A WORD FOR TODAY 19 DECEMBER 2019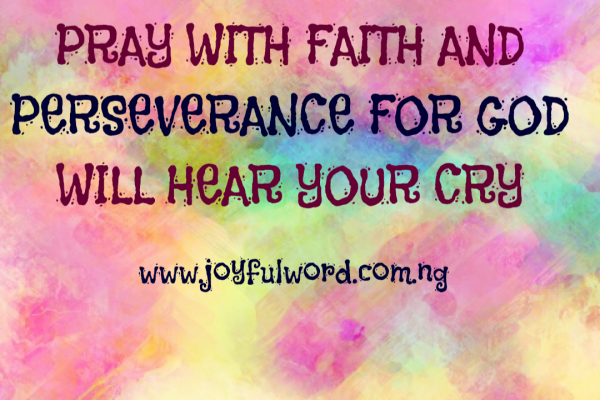 A WORD FOR TODAY
PRAY WITH FAITH AND PERSEVERANCE FOR GOD WILL HEAR YOUR CRY
The readings of today talk about the birth of two great men in the Scriptures. The first reading tells the story of how Samson came to be born. Manoa and his wife had no child for a long time, but they were righteous before God. The Angel of the Lord appeared to the woman and delivered to her the good news that they are going to have a son. She was troubled in her heart for such a visit, but in the end what the Lord promised to them through the Angel came to fulfilment and Samson was born and the Lord used him to deliver His people from the hands of the philistines.
The story in the gospel reading is also similar to that of the first reading, because it narrates about the nativity of John the baptist. First there was a visitation by the Angel to Zechariah who was performing his duty as a priest on the day of this divine encounter. Secondly, there was an announcement of the good news that he (Zachariah) and his wife Elizabeth are going to bear a son and thirdly, there was a fulfilment of the promise made to them by the Lord.
We can learn so many things from the readings of today. first, we see that difficulties and challenges can come to those who serve the Lord with their whole heart. Zachariah and Elizabeth walked blamelessly before the Lord and kept His ordinances, but they had no child. Elizabeth was barren and they were both advanced in age, but when the Lord visited them, their story changed and what was impossible became possible.
In their time of need they never abandoned the Lord. They continued to pray and serve the Lord without grudges or regret. God is faithful to His promise and He answers us in His own time. We must learn to trust Him and faithfully persevere in our prayers as we seek His face for the needs of our life. God can never be late, therefore, do not give up before the Angel with your good news visits you.
In our times of need we must never fail to call upon the Lord in prayers for God will never abandon us. He will send us help from above and He can do all things. Therefore, as you continue to wait upon the Lord for your own divine visitation, let Zechariah and Elizabeth be an inspiration to you. They remained steadfast in their faith even when they have not received what they sought from the Lord. They continued to live a good life and never slacked in carrying out their task as God's children.
The Lord knows our needs and He can help us overcome them, however, we must strive to persevere even when it seems that He is delaying in coming to visit and help us. Never give up, because delay is not denial. God is not man and His time will always be the best. Hold unto Him with faith and He will give you a gift that will restore your joy and gladness.
Good morning dearest one. Smile😊as you do your work and do have a magnificent day. May the Angel of Good News visit you and may the Lord answer your prayers and restore your joy. Amen. And may the Almighty God bless you: the Father and the Son and the Holy Spirit. Amen.
Meditation: Judges 13:2-7,24-25/Psalm 71:3-4,5-6,16-17/Luke 1:5-25
Watch-Word: My mouth is filled with your praise, and I will sing your glory.
God's visitation brings restoration. Prepare to welcome the Lord for He will restore your joy and wipe away your tears.
(Thursday of the Third Week of Advent, Year A)