A WORD FOR TODAY 19 FEBRUARY 2020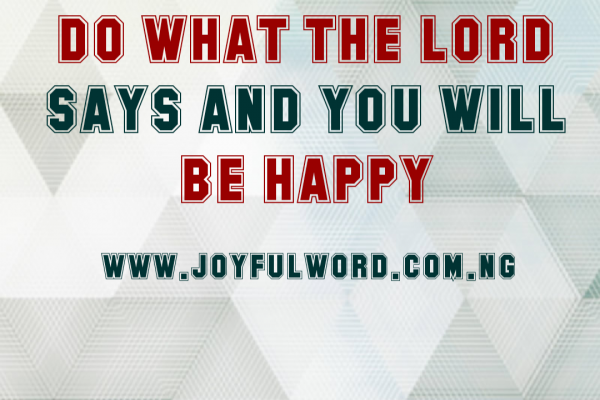 A WORD FOR TODAY
DO WHAT THE LORD SAYS AND YOU WILL BE HAPPY
When you are given an instruction to do something by your superior and you fail to carry it out, it shows that you are not respectful and obedient and sometimes failure to do that which you are told to do could cost you or the establishment something of immense value.
Saint James in the first reading of today admonishes us not just to be hearers of the word of God, but more importantly to be doers of what the Lord says. This will definitely make us to be good ambassadors of the one we are representing.
Christian life is one that is lived based on the principles of the gospel and the whole law and commandment of God is summed up in love. Therefore, When we hear God's word, we are expected to be moved by it to do what it says and indeed, anyone who does what the word says will find joy and everlasting life on the last day.
Knowing God's word is not just enough, you need to go a step further to live your life based on what you know. We must grow everyday in our knowledge of God's word. It is a gradual process that involves, commitment, discipline and diligence, just as the healing of the blind man in the gospel reading of today came gradually.
When you truly know God's word, it will help you to control your temper. You will bridle your tongue and you will be slow to anger. You will strive everyday to do good and assist those in need and more importantly it will help you to keep yourself unstained from the evil in the world.
Good morning dearest one. Smile😊as you do your work and do have a wonderful day. May God's grace help you to always do what the word of God says. Amen. And may the Almighty God bless you: the Father and the Son and the Holy Spirit. Amen.
Meditation: James 1:19-27/Psalm 15:2-5/Mark 8:22-26
Watch-Word: The word of God brings healing and salvation.
When you do what the word of God says, you will be the best in the sight of God. Do not be hearers only, but doers of the word.
(Wednesday of the Sixth week in the Ordinary Time, Year II)