A WORD FOR TODAY 19 MARCH 2020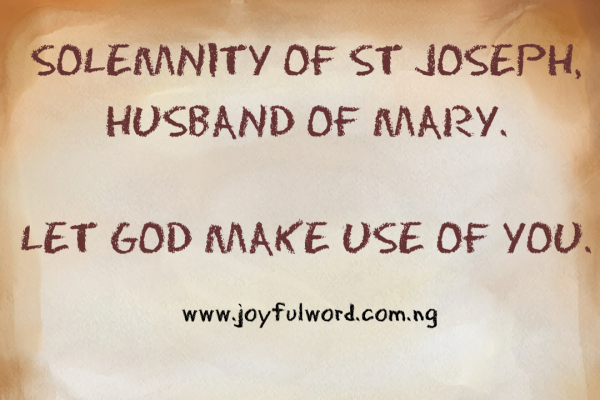 A WORD FOR TODAY
LET GOD MAKE USE OF YOU
Today we celebrate the Solemnity of saint Joseph, husband of Mary and foster father of our Lord Jesus Christ. The story of how he came to become the one who took care of Jesus at infancy and became a father figure to Him is one that will move any person who wants to grow in the spirit to learn from His examples.
St. Joseph made plans of what his life was to be. He has fulfilled the rite to marry the blessed Virgin Mary and before they could be together he found out she was with a child of the Holy Spirit. This kind of experience could be devastating to anyone who passes through it, but even in the midst of the confusion the whole scenario generated, he was very calm and handled it maturely.
Sometimes in our lives we act irrationally and without human consideration. We place our selfish interest first and that blinds us from seeing the good our actions could do in people's lives by simply trying to understand them and help them as much as we can.
We must learn from saint Joseph to let God make use of us. When he came to understand what was happening in the life of our mother Mary, he did not hesitate to accept God's will and then play the role that He has set out for him to carry out in the life of Mary and Jesus.
Saint Joseph is a good example not just to the masculine gender, but to anyone who considers others and show them compassion even when they have not lived up to expectation. He allowed God to make use of him and he took proper care of our Lord Jesus Christ.
Saint Joseph was kind and generous, responsible and upright. He did not let anything of this life, stop him from doing God's will. We can do the same if we open our heart and let God come in and dwell in us. Hod will make use of us if we let Him and if He uses you, it will bring salvation to many and glory to His name.
Good morning dearest one. Smile😊as you do your work and do have joyful day. May God use you as He used saint Joseph for His own glory. Amen. And may the Almighty God bless you: the Father and the Son and the Holy Spirit. Amen.
Meditation: 2 Samuel 7:4-5,12-14,16/Psalm 89:2-5,27,29/Romans 4:13,16-18,22/Matthew 1:16,18-21,24
Watch-Word: When Joseph woke from sleep, he did as the Lord commanded.
It is sometimes difficult to let God's will be done, but when we do, we will be the ones to gain.
(Thursday of the Third week of Lent: Day 20. Solemnity of saint Joseph )