A WORD FOR TODAY 19 MAY 2020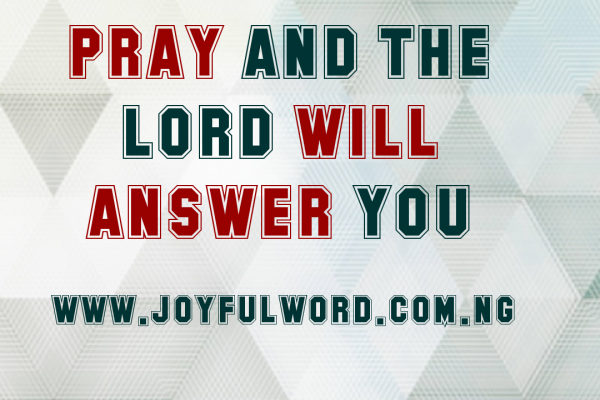 A WORD FOR TODAY
PRAY AND THE LORD WILL ANSWER YOU
"But about midnight Paul and Silas were praying and singing hymns to God, and the prisoners were listening to them, and suddenly there was a great earthquake, so that the foundations of the prison were shaken; and immediately all the doors were opened and every one's fetters were unfastened."(Acts 16:25-26)
The story of the first reading of today is one that encourages faith and also helps those who are yet to believe in Jesus to come to accept Him. Paul and Silas were thrown into prison after they have been beaten by their captors, but instead of lamenting and crying about their ordeal, they continued to praise the name of the Lord and called upon Him in prayers and the Lord came to their aid.*_
It is by the grace of the Holy Spirit that they were able to remain steadfast and not give up. They suffered for proclaiming Christ, but they never gave up, they prayed to God in their time of distress and the Lord came to their aid. The temple shook, the doors were opened, their chains were broken and they were set free, but they remained in the prison, because God used them to convert the jailer and his entire household and also touched the lives of other prisoners.
We must never underestimate the power of prayer, instead we should make prayer a way of life for us, because that is the only way we can connect with God, praise His name and make Him know of our need. We must pray in season and out of season. It is something we must do everyday, but as we pray we must have faith in God and always be ready to let His will be done in our lives.*_
The Holy Spirit will be our companion because He will help us to pray always and pray well. Infact, it was by the power of the Holy Spirit that Paul and Silas were able to sing and pray even in their incarceration and the Lord used them to touch lives inside the prison._
Do not give up in your time of pain and trouble, call upon the Lord in prayers and be rest assured that He will always answer you. God is ever ready to hear the cry of His children, but sometimes we are distracted and we fail to pray and at other times, even if we pray, we fail to pray well with faith. Use every opportunity that come your way to connect with God in prayers and also to proclaim the name of Jesus, because the Lord will come to deliver you and set you free from the hands of your captors.
_Good morning dearest one. Smile😊as you do your work and do have a blessed day. May God hear your prayers and may He come to your aid and set you free from your trouble. Amen. *And may the Almighty God bless you: the Father and the Son and the Holy Spirit. Amen.*_
*Meditation:* Acts 16:22-34/Psalm 138:1-3,7-8/John 16:5-11
*Watch-Word:* With your right hand you save me O Lord.
*Pray with faith to God and He will come to your aid and deliver you from every trouble.*
(Tuesday of the 6th Week of Easter. Cycle A)