A WORD FOR TODAY 19 OCTOBER 2019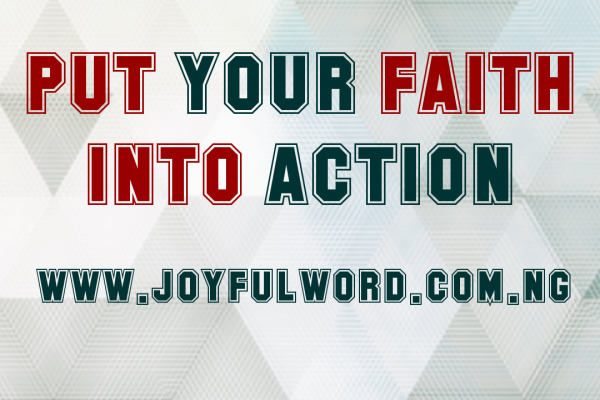 A WORD FOR TODAY
PUT YOUR FAITH INTO ACTION
In the first reading of today saint Paul recounted how Abraham was made the father of many nations not according to human law, but by the righteousness of faith. He believed that what the Lord had said which he had not seen must come to pass and His faith made the promise to become a reality.
Faith is God's supernatural gift to us and anyone who possess it will be able to please the Lord and do His will. We cannot function well as disciples of Jesus if we do not have faith and our faith is meant to grow through our actions. God gives us the gift, but we must make effort not to let anything make our faith in Him to remain dormant, rather, at all times and in all places we will exercise our faith in Him and show the world that we belong to Him through our good works.
Indeed, faith without good work is dead and it is through the things we do that people will come to know where we belong and who we represent, God or the devil, light or darkness, good or evil. As God's children, our faith should move us to acknowledge Christ here on earth in the manner of our living, both in word and deed and at the end of time He will reciprocate our commitment to faith by acknowledging us in the presence of His Father in heaven.
For us to be able to grow in faith and acknowledge Christ well in this life we must let the Holy Spirit dwell in our heart and give us the grace to remain steadfast so as to courageously witness for the One who will reward us immensely on the last day. We must bear witness for Him with what we do and say and we must not be afraid because men can do us nothing so long as God is with us. They can destroy the body, but they cannot touch our soul, for God cares for us and He will always take care of us in good times and in bad.
Good morning dearest one. Smile😊as you do your work and do have a splendid weekend. May your faith in God never fail and may you always witness for Him in season and out of season. Amen. *And may the Almighty God bless you: the Father and the Son and the Holy Spirit. Amen.
Meditation: Romans 4:13,16-18/Psalm 105:6-9,42-43/Luke 12:8-12
Watch-Word: The Lord remembers His covenant forever.
If you have faith in God, show it in the good works you do and you will inspire others to believe in Him. Speak less, let your good works do the talking.
(Saturday of the 28th Week in the Ordinary Time, Year 1)