A WORD FOR TODAY 19 OCTOBER 2020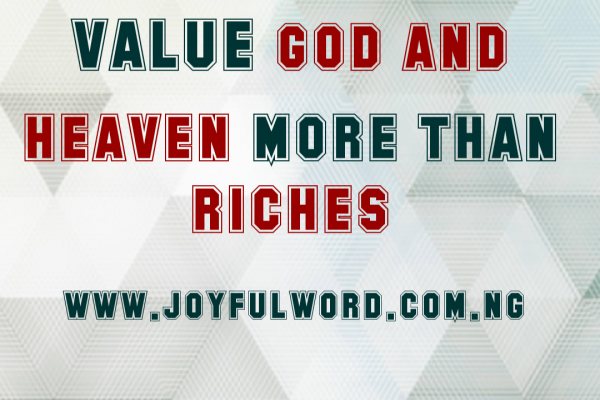 A WORD FOR TODAY
VALUE GOD AND HEAVEN MORE THAN RICHES
"And he said to them, "Take heed, and beware of all covetousness; for a man's life does not consist in the abundance of his possessions."(Luke 12:15)
God made us for Himself, but he put us in this world to stay just for a moment. Yes, we must subdue the earth and conquer it. We must strive to be successful, but our quest to be successful should never come between us and God and the honour we should give to Him.*_
The pursuit of wealth is one thing and the salvation of soul is another. We are always struggling to place a balance between the two ways that confront us from time to time. However, Jesus in the gospel reading of today makes it explicitly clear that a man's life does not consist in his possession.
There is life after this earthly life and if you spend your whole energy and time building up treasures for yourself here on earth, you will be poor towards God and will have no treasure in heaven.
Even as you work hard to be successful here on earth, work hard more to be in good relationship with God. Live a holy life, love your neighbour as yourself, be genenerous and charitable towards the needy and when the time comes, all your spiritual good will win you etetnal life in heaven.
Value heaven, where God dwells, more than riches and material possessions. Use your wealth to serve Him in the poor and the needy. Do good with what you have and you will not be locked out of God's kingdom on the last day.
Do not become so attached to the things of this life, its beauty and pleasures and then become detached from God. Never let your quest to make it big time come between the time you should spend to honour God who has given you life. Always remember that you came into the world with nothing and you will take nothing when you return to God except the good or bad which you have done and your reward will be based on what you have done. Salvation of soul is paramount over wealth and riches, choose wisely and you will not have regret in the end. This is the central message of the gospel reading of today.
Good morning dearest one. Smile😊as you do your work and do have a blessed new week. May God help you to value heaven more than riches. Amen. And may the Almighty God bless you: the Father and the Son and the Holy Spirit. Amen.
Meditation: Ephesians 2:1-10/Psalm 100:1-5/Luke 12:13-21
Watch-Word: The Lord made us, we belong to Him.
God is the ultimate and we shall return to Him in the end, thetefore, value Him more than earthly possessions.
(Monday of the Twenty ninth week in the ordinary time, year II)