A WORD FOR TODAY 19 SEPTEMBER 2021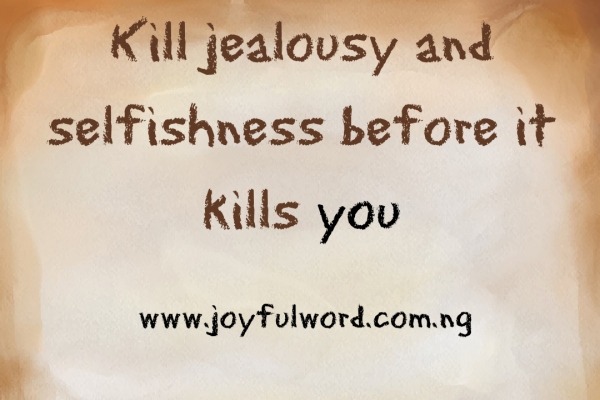 https://youtu.be/tX4cDk55zo8
*A WORD FOR TODAY*
*KILL JEALOUSY AND SELFISHNESS, BEFORE IT KILLS YOU*
_"For where jealousy and selfish ambition exist, there will be disorder and every vile practice. But the wisdom from above is first pure, then peaceable, gentle, open to reason, full of mercy and good fruits, without uncertainty or insincerity."(James 3:16-17)_
_*Jealousy and selfishness are vices that should not be in the life of a Christian, because it does not help to build up the community but sows the seed of bitterness and destroys it.*_
While jealousy simply concerns itself with being hostile towards a rival or one believed to enjoy an
advantage over you, Selfishness on the other hand is all about seeking or concentrating on one'sown advantage,
pleasure, or well-being without regard for others.
_*In the first reading of today we see how the ungodly men laid a siege and plotted to destroy the righteous man simply because he reproaches them for their evil deeds. They were not comfortable with his attitude and they plotted to remove him so that he will not border them anymore.*_
_When our heart is filled with envy, jealousy, greed, hatred and bitterness, we will definitely be working against people who seem to be doing well more than us. We will try to pull them down so that they will be in the same position like us or their names will never be mentioned again in the things they have achieved._
_*St. James tells us in the second reading that where these vices exist, we are bound to have discord and fighting. We must put our passion in check. We must learn to be content with what we have and grow ourself. We must learn to appreciate one another especially in the areas where we are doing well instead of tearing each other apart.*_
_We are all created in the image and likeness of God and we have been given a role to play in this life by God. Your gift is not my gift and your talent is not my talent, however, we can complement each other. In the areas where I am weak you will help me to be strong and in the places where you are weak I will help you to be strong._
_*We must learn from the gospel reading of today to strive to outdo one another in doing good and in being of service to others, for it is only by this standard that we will be counted among the great in the presence of the Lord. The position you occupy in life does not matter, but what you do with it counts more.*_
_Jealousy and selfishness are two vices that can tear homes, churches, friendship and community apart, and when this is done, the devil rejoices and the people of God will be in pain and lose. In this state, our prayers will not be answered, because it will make no sense before God. Jesus was busy telling the disciples what awaits him and they were distracted by their selfish ambition of who will be the greatest. To desire to be great is not sinful, but let your greatness come from being a good servant to the poor and the needy of our world and in helping them to find joy and happiness._
*Steps to overcome jealousy and selfishness*
1. Do not think that the world revolves around you alone. Be a team player at all times.
*2. Always be ready to do something for others even when it hurts you to do it.*
3. Be content with who you are and what you have and then be humble and ready to learn from those who are better than you.
*4. Inculcate the spirit of Tolerance and learn to appreciate those who have achieved what you have not been able to achieve.*
_Good morning dearest one. Smile😊as you begin your day and do have a splendid Sunday. May the Lord deliver you from the spirit of jealousy and selfishness. *Amen. And may the Almighty God bless you: the Father and the Son and the Holy Spirit. Amen.*_
*Meditation:* Wisdom 2:12,17-20/Psalm 54:3-6,8/James 3:1-6/Mark 9:30-37
*Watch-Word:* If anyone will be the first, he must be the last and servant of all.
*Never let selfishness stop you from learning from others to grow yourself. We can build each other rather thank kill and destroy one another.*
(Twenty fifth Sunday in the Ordinary Time, Cycle B)