A WORD FOR TODAY 2 APRIL 2020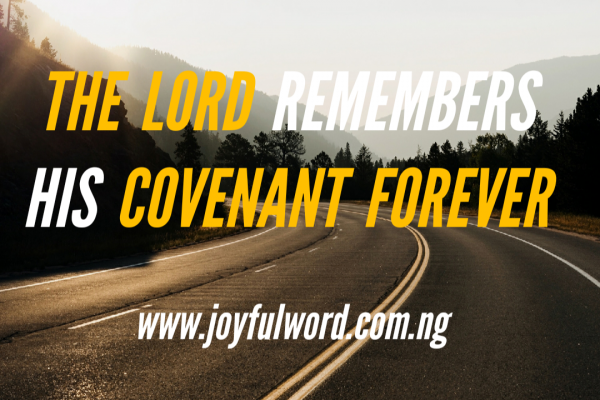 A WORD FOR TODAY
THE LORD REMEMBERS HIS COVENANT FOREVER
"And I will establish my covenant between me and you and your descendants after you throughout their generations for an everlasting covenant, to be God to you and to your descendants after you." (Genesis 17:7)
One thing is sure about the God we serve, He does not make a promise and fail to fulfil it. He is always faithful even when we His followers remain unfaithful. If He says He will do something, then it must surely come to pass.
The first reading of today from the book of Genesis talks about how the Lord made a covenant with Abraham. He blessed him and made him fruitful beyond his imagination. He established this covenant with him and his descendants. He did not go back on the promises He made, He fulfilled it and we are beneficiaries of that everlasting covenant.
Abraham was obedient to God and kept to the covenantal relationship he had with God. He obeyed God in all things and He is our father in faith. He not only obeyed God, but had faith in Him and it was counted as righteousness. He has become an example for us and we can learn from him what obedience means and how we can apply it in our relationship with God.
Jesus came from God and He obeyed the Father in all things, but the pharisees did not believe in Him and refused to obey His commands. They wanted to get rid of Him simply because he was telling them the truth. However, they never knew that He was sent for their salvation.
We cannot be friends with God if we fail to keep His word and to do His will like our Lord Jesus Christ did. We must, like Abraham be faithful to our covenant relationship with God and in that way we shall be bold to answer children and friends of God.
Just as Abraham has become an example for us, we must strive everyday to grow in our relationship with God so that we could become a model and worthy example to those who look up to us in the community.
Good morning dearest one. Smile😊as you do your work and do have a wonderful day. May God help us to keep His words and may His blessings be upon us. Amen. And may the Almighty God bless you: the Father and the Son and the Holy Spirit. Amen.
Meditation: Genesis 17:3-9/Psalm 105:4-9/John 8:51-59
Watch-Word: If anyone keeps my word, he will never see death.
Keep God's word and you will be His friend and you will find eternal life.
(Thursday of the Fifth week of Lent. Day 32)