A WORD FOR TODAY 2 DECEMBER 2019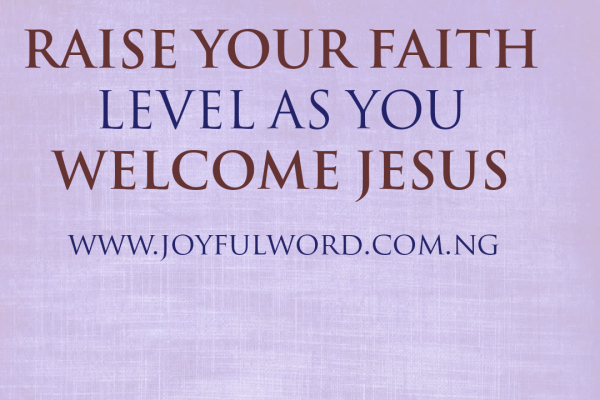 A WORD FOR TODAY
RAISE YOUR FAITH LEVEL AS YOU WELCOME JESUS
As we continue in our journey to prepare for the coming of the Son of man at Christmas and beyond, the Scriptures presents us today with some of the virtues we must have so as to be ready to welcome Jesus. The Centurion in the gospel reading of today was a man of authority, but in approaching Jesus he humbled himself and recognised the power and greatness in Him so that he will be able to receive what he needed.
He had faith that Jesus could do something to help his servant. His faith was so strong that when Jesus offered to come and heal the servant, he acknowledged his unworthiness to have Him under his roof, instead he asked Him to only say a word and his servant will be healed. This is simply faith raised to a higher level and it moved Jesus, because he commended the Centurion as a man of deep and admirable faith and that made him to receive what he asked of the Lord.
The Centurion was a very humble man who knew that he does not have what it takes to heal his servant and he brought himself low to seek help from the One who can help him. This means humility in action. In the end he did not lose anything, instead he gained fame and praise from Jesus. Humility does not remove your glory and prestige, instead it adds to it and makes it to shine out more. The virtue of humility helps us to recognize our weakness and unworthiness before God and also to see the greatness of God's power and to profess it always. If we must receive from the Lord, we must come before Him with humility in our prayers and He will help us, because He is ever ready to help those who cry out to Him from the depth of their heart.
The attitude of the Centurion towards his servant also teaches us something about being compassionate. He was not the person paralysed, and if they take the servant away from his house, other servants can take over his job or responsibilities, but he chose to do something to help. We must learn from him to be concerned about the needs of others especially those who work for us and serve us. We must not only use them when they are strong to serve us, but we must also go the extra mile to be with them and help them to get well when they are sick, troubled and in need of help to rise up again.
Jesus was moved by the loving and gentle attitude of the Centurion because he was a good man who had the interest of his servant at heart and his faith in Jesus was unshakable that he only asked Him to say a word and his servant shall be healed. This is faith raised to another level and it is such faith that we must possess if we are going to please God. A faith that will make you believe in God's power to turn things around for you even when you have not seen any sign. We must raise our faith level to believe that Jesus who is coming will take care of us and will provide us with the grace we need to live well and make heaven on the last day.
Raise your faith level and see in Jesus the great healer. Raise your faith level and see in Him, the wounded Messiah. Raise your faith level and see in Him, the One who will make all things well for you. He does not fail and He will never fail those who put their trust in Him. He is our sure helper in our times of need and when He speaks, every troubling and discomforting situation in our lives will tremble and bow. He is the One whom we are going to welcome at Christmas, therefore, put on these virtues highlighted in the readings of today and you will be ready to have Him come into your heart and dwell with you.
Good morning dearest one. Smile😊as you do your work and do have a wonderful Day and New week. May God's grace be upon you in abundance and may He hear your prayers when you call upon Him with faith. Amen* *And may the Almighty God bless you: the Father and the Son and the Holy Spirit. Amen.
Meditation: Isaiah 4:2-6/Psalm 122:1-9/Matthew 8:5-11
Watch-Word: Lord, I am not worthy to have you come under my roof, but only say the word and my soul shall be healed.
When you raise your faith level in Christ, things will work out for you beyond your expectations.
(Monday of the first week of Advent, Year A)