A WORD FOR TODAY 2 JUNE 2020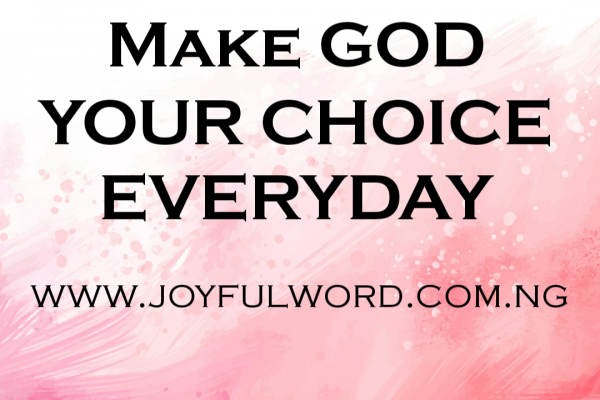 A WORD FOR TODAY
MAKE GOD YOUR CHOICE EVERYDAY
But knowing their hypocrisy, he said to them, "Why put me to the test? Bring me a coin, and let me look at it. And they brought one. And he said to them, "Whose likeness and inscription is this?" They said to him, "Caesar's. Jesus said to them, "Render to Caesar the things that are Caesar's, and to God the things that are God's." And they were amazed at him. (Mark 12:13-17)_
If you do not make the choice of the path to follow early in life, you may not be able to stand when you will be tested. There are two ways placed before us, the way of good and evil, light and darkness. The one you choose will definitely be what will control you and will also determine what the outcome of your life will be in the end.
St. Peter in the first reading of today reminds us to strive to be spotless and without blemish as we wait for the coming of the Lord. For this to happen we must stay focused, be at alert and grow in the knowledge of our Lord and saviour Jesus Christ, so that we will not be led astray by evil men and women who have chosen to follow the path of darkness.
Anyone who desires to live a good life in this world, must choose God above every other thing. If we make God our choice, He will teach us the truth and will help us to overcome the challenges and temptations we face on a daily basis. He will defend us and fight our battle and win for us victory over evil.
Jesus in the gospel reading responded with wisdom to the pharisees who came to tempt him by asking whether they should pay tax to Ceasar or not. Infact, they got more than they bargained for, because what Jesus did surprised them. He said to them, give to Caesar what belongs to him and to God what belongs to Him. By this, He was actually telling them that all glory and honour must go to God because He made and created all things including Ceasar.
We belong to God and to Him must all glory and honour be. We should perform our civic duties and fulfill our responsibilities to the civil authorities, but we must move beyond the world to acknowledge that God owns all things and we must give account to Him at the end of time. Therefore, we must give Him all our attention and let Him be our guide in our daily living.*_
Be wise like Jesus and do not let people deceive you. Apply discernment in the decisions you take so that you will overcome temptations and traps that will be set for you by evil men and women. Make God your choice everyday, do His will and you will be happy in this life and in the world to come.
Good morning dearest one. Smile😊as you do your work and do have a wonderful day. May Jesus help you to stay focused always so that evil people will not be able to deceive you. Amen. And may the Almighty God bless you: the Father and the Son and the Holy Spirit. Amen.*_
Meditation: 2 Peter 3:12-15,17-18/Psalm 90:2-4,10,24?26/Mark 12:13-17
Watch-Word: O Lord, you have been our refuge, from generation to generation.
Do not let anyone deceive to believe that anything in this life is better that God's glory which you will receive at the end of time. Keep fighting the good fight of faith so as to win the crown of glory.
(Tuesday of the 9th week in the Ordinary Time. Year II)