A WORD FOR TODAY 2 MAY 2020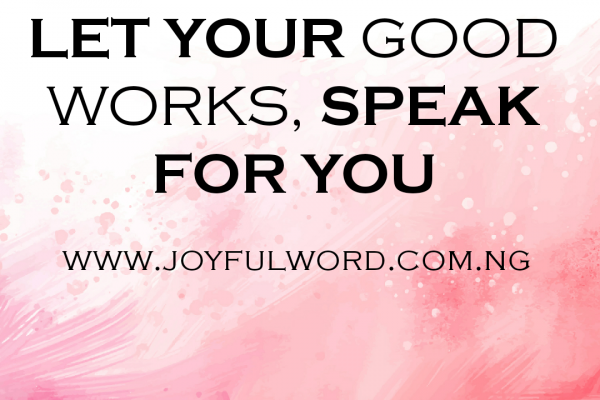 A WORD FOR TODAY
LET YOUR GOOD WORKS SPEAK FOR YOU
"Now there was at Joppa a disciple named Tabitha, which means Dorcas or Gazelle. She was full of good works and acts of charity. In those days she fell sick and died; and when they had washed her, they laid her in an upper room"_(Acts 9:36-37)
Goodness is something that everyone craves for but sometimes if you are unable to discipline yourself and make the right choice in life it may be difficult for you to be good or to do good to others.
In the first reading of today we see how Jesus through Peter brought healing to Aeneas and Tabitha. It is still the resurrection power that is at work and the healing they received made the faith of the people in the community to be strong and a great number was added to the faith.
A touching moment in the whole scenario is not just about the healing, but the reaction of the people when Peter got to Tabitha's house. They told him all the good things she has been doing for them. The people were moved by her good works of charity and they asked Peter to come and pray for her. Peter indeed, prayed and God answered the prayer and she was brought back to life.
We must learn to let our good works speak for us in this life. The woman was kind and her kindness touched those around her in a very significant way. God is happy when we do good and it is the good we do now which impact others, that will speak for us someday.
If you are good, you are good and people will feel your goodness and if you are faking it, people will also know. You must not be the richest man on earth to do charity, but you can do your charity in such a way that those who benefit from the good you have done will forever be grateful that God sent you their way.
The disciples of Jesus in the gospel reading could not leave Him because His words made a deep impact in them and they will continue to proclaim His name even after He has ascended into Heaven. We must strive everyday to do good and leave legacies that will speak for us after we have gone. The question we shall ask ourselves today is, what will people remember you for when you are no more? is it for the good works you did or for the evil you committed? Now is the time to start to do good if you have not started already, so that when the time comes, your good works will speak for you before men and in the presence of God.
Today we celebrate the memorial of saint Athanasius(295-373). He was born in Alexandria and assisted Bishop Alexander at the Council of Nicaea and later succeeded him as bishop. He loved the truth and fought hard against Arianism and suffered a lot for it. He wrote outstanding works to explain and defend the orthodoxy of our faith. Let us learn from him to strive to love the church and to believe deeply in the authentic teachings about God that she gives to us.
Good morning dearest one. Smile 😊as you do your work and do have a wonderful day. May Jesus give you the grace to do good and may your goodness be authentic and real and not fake and may it touch people's lives and speak for you always. Amen. *And may the Almighty God bless you: the Father and the Son and the Holy Spirit. Amen.
Meditation: Acts 9:31-42/Psalm 116:12-17/John 6:60-69
Watch-Word: How can I repay the Lord for all his goodness to me.
Be good to people now so that when you are no more, they will remember you for the good you have done and it will speak for you before man and God.
(Saturday of the 3rd Week of Easter. Cycle A: Memorial of Saint Athanasius)
Fr. Augustine Eleke