A WORD FOR TODAY 20 APRIL 2020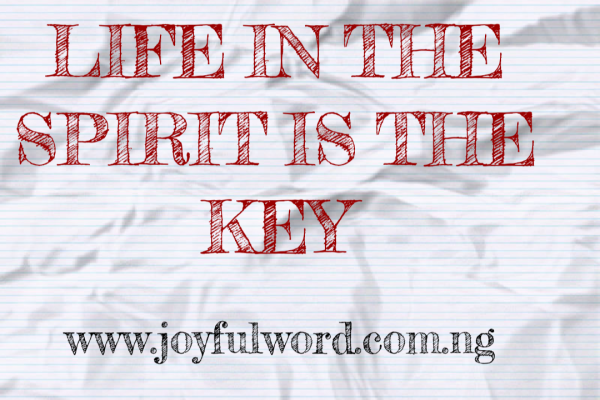 A WORD FOR TODAY
LIFE IN THE SPIRIT IS THE KEY
"And when they had prayed, the place in which they were gathered together was shaken; and they were all filled with the Holy Spirit and spoke the word of God with boldness." (Acts 4:31)
The story in the first reading of today is a continuation of what happened to Peter and John and how they did not allow the persecution they encountered to deter them from witnessing in the name of Jesus. As soon as they were released, they went to tell their friends what they encountered and they all prayed together, filled with the Holy Spirt and continued to proclaim Jesus with boldness and power.
If we are going to fulfill our purpose here on earth, we must value life in the Spirit and we must strive everyday to let the Holy Spirit dwell in us and guide us in all that we do. Without the Holy Spirit we shall be empty, weak, prayerless and afraid to proclaim the Good News.
To live a life in the Spirit is to be born again of water and the Holy Spirit. This is what Jesus teaches us in the gospel reading. For us to belong to Him we must be born of water and the Holy spirit and we must let the Holy Spirit dwell in us. The Holy Spirit will be our friend and He will give us the boldness to proclaim Christ everywhere.
Witnessing for Jesus requires courage and boldness. For this to happen, we must live in the spirit and detest the works of the flesh. We must create time to be with the Lord always and pray for the Holy Spirit to lead and direct us.
If you want to continue to defend your faith and to proclaim the risen Christ in words and deeds, then the Holy Spirit must be your friend. You must live a life in the Spirit and focus your mind on the things above and not in things below.
Good morning dearest one. Smile😊as you do your work and do have a fantastic new week. May the Holy Spirit help you to be bold and courageous as you defend your faith. Amen. *And may the Almighty God bless you: the Father and the Son and the Holy Spirit. Amen.
Meditation: Acts 4:23-31/Psalm 2:1-9/John 3:1-8
Watch-Word: Unless One is born anew, he cannot see the kingdom of God.
To live a life in the spirit is to be ready to let the Holy Spirit inspire you to make yourself avavailable for the good of the poor.
(Monday of the Second week of Easter.)