A WORD FOR TODAY 20 DECEMBER 2019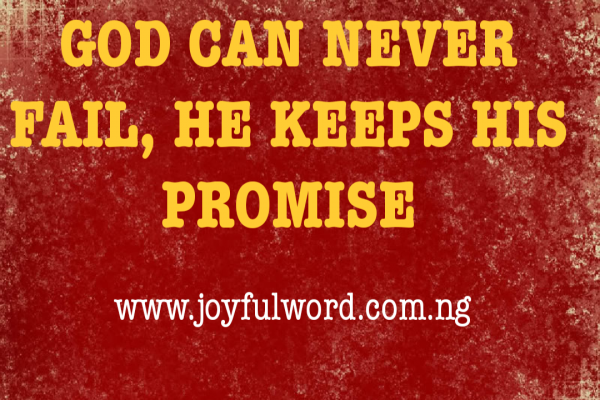 A WORD FOR TODAY
GOD CAN NEVER FAIL, HE KEEPS HIS PROMISE
If there is something that distinguishes God from humans, it is the fact that God is ever faithful and He does not fail in His promise. If He says He will do something, then He will definitely do it. Human beings on the other hand could make promise and when it is time to fulfil it, they will no longer keep to what they have said.
The faithfulness of God can never be questioned as we examine the readings of today. The promise of the Lord given in the old testament as recorded in the book of Isaiah that a virgin will conceive and bear a son whom she will call Immanuel (God is With us), came to be fulfilled in the new testament as we see in the gospel reading of today.
Yesterday in our readings, the angel was sent to go and announce the good news to Manoa and his wife and also to Zecharia and Elizabeth of the blessing of a child they were going to receive from the Lord. Today we see how the same angel came to announce to our Blessed Mother Mary the good news that she was going to be the mother of the son of God our Lord Jesus Christ, in fulfilment of the promise He made in the old dispensation.
God chose our Blessed Mother for this role in our salvation history even before she was born and when it was time for it to be fulfilled He sent His angel to come and announce the Good News to her. She submitted in humility to God's will and God fulfilled the promise He made long ago to us through her.
Our Mother Mary has become an example for us today and for generations to come. She believed in the faithfulness of God to fulfil His promise and she never doubted. We must learn from her to trust God at all times, because He will never fail and whatever He has promised to do will definitely come to fulfilment. She said yes to God and God made use of her as a channel through which His Son will come into the world to save humanity.
We should have faith in God at all times because He can never fail. He keeps His word and He is true to His name. We should trust Him like our Mother Mary did and we shall never be disappointed. Our responsibility should be to keep doing good so that God will find us worthy to make use of us as instruments in this life for the good of humanity.
Do not be afraid to put your trust in the Lord. He can do all things and He can help you. He is faithful to His words and no one who trusts in Him will be put to shame. Our Lord Jesus Christ is the promise of the Father to us and His nativity is what we are preparing to celebrate. Therefore, open your heart to Him so that He will come in and give you life.
Good morning dearest one. Smile😊as you do your work and do have a blessed day. May God's word for your life come fulfilment at the appointed time. Amen. And may the Almighty God bless you: the Father and the Son and the Holy Spirit. Amen.
Meditation: Isaiah 7:10-14/Psalm 24:1-6/Luke 1:26-38
Watch-Word: Do not be afraid, Mary, for you have found favour with God.
God's faithfulness is indisputable. He keeps His word. Learn from Him and you will become faithful too.
(Friday of the Third Week of Advent, Year A)