A WORD FOR TODAY 20 MARCH 2020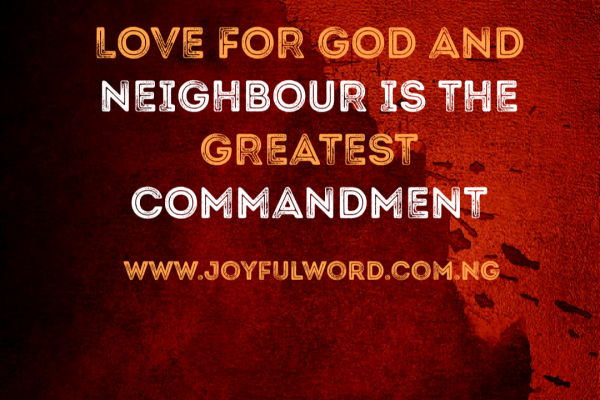 A WORD FOR TODAY
LOVE FOR GOD AND NEIGHBOUR IS THE GREATEST COMMANDMENT
Knowing what it means to love and how to love is not the most important thing, but applying what you know into a practical experience is of much and higher value.
If we have failed in any way, it must really be in our inability to love as we ought to. The commandments of the Lord are all summed up in love and when we fail to love as we ought to, we will not be like Jesus who came and gave His life as a ransom for many. His sacrifice was offered in love and today we enjoy the gift of that love.
Love of God and of our neighbour is the greatest of the commandment as Jesus tells us in the gospel reading of today. We must love God with all our heart and we must love our neighbour as we love ourselves and in that way we shall fulfill God's command and we will be blessed.
Love of God and neighbour is much more important than whole burnt offerings and sacrifices. If we do not love as Christ has commanded and go to offer sacrifices to God when we treat others wickedly, our sacrifices will be meaningless and will not please God.
If you have failed to love as Christ commanded us to do, now is the time to return back to Him. The Lord is ready to remould you and make you a better person in love. His mercy is available for those who seek Him. Rise, return to Him and learn from Him once again to love as He has loved us.
Good morning dearest one. Smile😊as you do your work and do have a wonderful day. May Jesus' love for you move you to love others as you love yourself. Amen. And may the Almighty God bless you: the Father and the Son and the Holy Spirit. Amen.
Meditation: Hosea 14:1-9/Psalm 81:6-11,14,17/Mark 12:28-34
Watch-Word: There is no other commandment greater than these.
Love, not just in words but in actions and you will be like Jesus who showed us what it means to love by dying on the cross.
(Friday of the Third Week of Lent: Day 21)