A WORD FOR TODAY 20 MAY 2020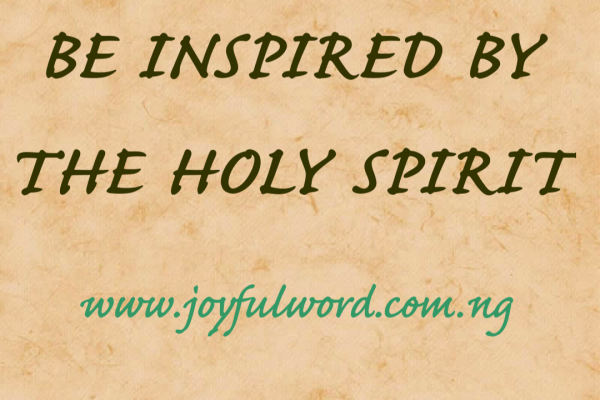 A WORD FOR TODAY
BE INSPIRED BY THE HOLY SPIRIT
_"I have yet many things to say to you, but you cannot bear them now. When the Spirit of truth comes, he will guide you into all the truth; for he will not speak on his own authority, but whatever he hears he will speak, and he will declare to you the things that are to come." (John 16:12-13)_
The speech that saint Paul delivered in Areopagus as recorded in the first reading of today is something that must move the heart of any serious believer in Christ to strive to have a relationship with the Holy Spirit, because it was the Holy Spirit that inspired him to say what he said to the people and to use what they know to teach them something about the God they do not know. He ceased the opportunity and spoke eloquently in defense of the faith
Inspiration is something we need in our lives from time to time. Sometimes we draw our inspiration from people, places or things, but no other person will be able to inspire us more than the Holy Spirit. Infact, any inspiration we get from people could easily be traced back to the Holy Spirit who could also work in people and through various channels to inspire us and make us to see things in a different light so as to bring out the best in us.
Jesus tells us in the gospel reading that the Holy Spirit will guide us into all truth when He comes. He will teach us to stand on the side justice and speak the truth always. We must follow His guide if we intend to fulfil our purpose in life. Therefore, it will be to our benefit that we welcome the Holy Spirit into our life so that He will always inspire us in all we do and say and by so doing we will not go astray nor lead others astray.
We need to be inspired by the Holy Spirit on a daily basis and we will be able to do the things that will please God and bring glory to His name. When the Holy Spirit inspires us, we shall speak words of hope and joy and through our witnessing many souls will be added to the number of believers. You need the inspiration of the Holy Spirit in your work, studies, faith practice, business, relationships and so on. If the Holy Spirit does not lead you, you will make a lot of mistakes and it will be difficult for you to win souls for God.
If you dispose yourself to receive the Holy Spirit, He will come into your heart and He will inspire you to do good, to love like Jesus, to be compassionate, to speak for the poor and marginalised, to inspire others to aim for greatness also and to be ready to serve the Lord with all your heart. If the Holy Spirit guides you, He will inspire you to speak words that will give life and not death, bring peace and not division, move people to do good and not evil, heal and not make people sick and so on. For you to be inspired by the Holy Spirit, you must submit yourself to Him and let Him lead you and you will become a different person all together.
Good morning dearest one. Smile😊as you do your work and do have joyful day. May the Holy Spirit inspire you to do good and to teach others to do good also. Amen. And may the Almighty God bless you: the Father and the Son and the Holy Spirit. Amen.*_
Meditation:* Acts 17:15,22-18:1/Psalm 148:1-2,11-14/John 16:12-15
Watch-Word:* When the Spirit of truth comes, He will lead you into all the truth.
When you are inspired by the Holy Spirit, the things you say and do and will be different and full of positive and motivational vibes and rhythms.
(Wednesday of the 6th Week of Easter. Cycle A.)