A WORD FOR TODAY 20 NOVEMBER 2019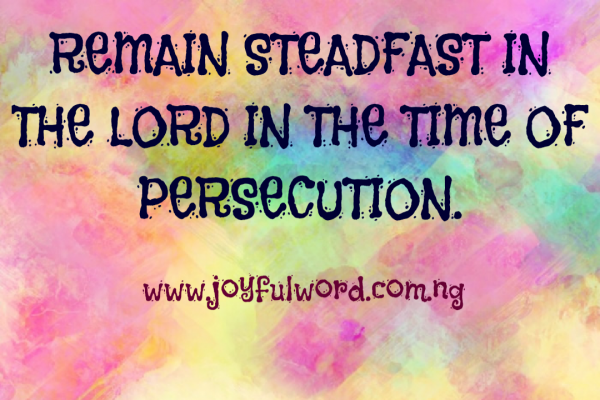 A WORD FOR TODAY
REMAIN STEADFAST IN THE LORD IN THE TIME OF PERSECUTION
Yesterday we reflected on how the courageous witness of Eleazar became a wonderful example to others who were looking up to him. Today we see how the seven brothers and their mother were arrested by the king and the intent was to make them eat the swine flesh and defile themselves. Their mother was courageous enough to tell the children to accept death rather than live and disobey the law of the Lord._
Life is about choices and if we make the right choice we shall be happy in the end, but if we choose wrongly, we will be sad in the end. God created us for a purpose and if we truly believe in Him, we must be ready to obey Him and do His will. Anyone who is in Christ Jesus must be ready at all times and in all places to shine out as the light and by so doing the works of darkness will not have any root in him or her.
These brothers were brought up well in the faith and when it mattered most, they stood their ground and defended their faith. They chose death over life, because they knew that living a life in disobedience to God's law does no make any sense and as a result, they accepted to be killed rather than defile themselves.
We must strive everyday to teach our children and those under our care the way of the Lord. We must give them a strong foundation in the things of the faith so that when they experience or encounter persecution or trials, they will not fail to remain steadfast. God expects us to show the world that we belong to Him even if it will cost us our lives, but we will be rest assured that He will give us back our life in heaven.
You must be ready to put your gifts into use for the Lord. You must be ready to spend your life for Him here on earth. This is the only way to gain eternal life. Anyone who is afraid or ashamed of proclaiming Christ will never be His disciple. Spending your life for the Lord involves helping the poor and the needy and showing the people the path to life. This is the way of the Lord and if we follow it we shall be rewarded abundantly by the Lord in the end.
Good morning dearest one. Smile😊as you do your work and do have a splendid day. May Jesus give you the grace to witness for Him without fear and may eternal life be your reward. Amen. And may the Almighty God bless you: the Father and the Son and the Holy Spirit. Amen.
Meditation: 2 Maccabees 7:1,20-31/Psalm 17:1,5-6,8,15/Luke 19:11-28
Watch-Word: I chose you from the world that you should go and bear fruit, and that your fruit should abide, says the Lord._
Never give up! no matter the pressure, remain faithful to the Lord and heaven shall be your reward.
(Wednesday of the 33rd week in the Ordinary Time, Year 1)