A WORD FOR TODAY 20 OCTOBER 2020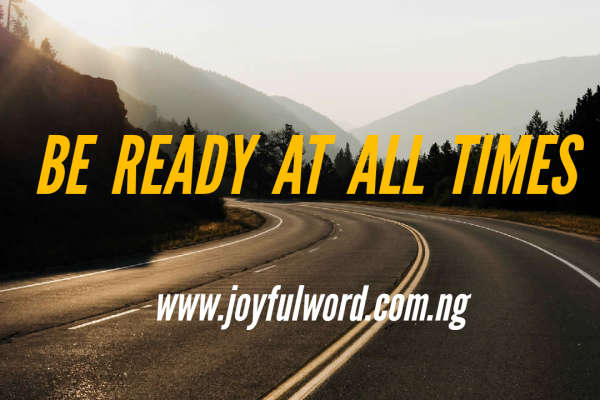 A WORD FOR TODAY
BE READY AT ALL TIMES
"Let your loins be girded and your lamps burning, and be like menwho are waiting for their master to come home from the marriage feast, so that they may open to him at once when he comes and knocks"(Luke 12:35-36)
When you are given areas of concentration in an exam by the subject teacher and likely exam questions that will come out in the exams and you still fail the exams, it shows you did not prepare well or you did not take the examination seriously.
The gospel reading of today is like Jesus given an expo to His disciples of what they should be doing so as to be ready for His coming. We must keep our lamp burning and our loins girded. This is the best way to be ready for the master's coming and only those who are ready will be admitted into the etetnal banquet.
To be a follower of Jesus requires something much more than just bearing the name Christians. We must be consciously aware of who we are in Christ and what was paid as a ransom by Jesus Christ for our redemption and that will help us to stay at alert and be vigilant so that we will not be deceived or be led astray.
For our lamps to be burning there must be oil in it. Therefore, we must fill our hearts with the word of God and with holy things and in that way the fruits we shall bear will be righteousness and goodness and we will be ready to welcome the master when He returns.
Do not be tired of doing God's work and fulfilling His will, keep doing them and be rest assured that all your efforts to be kind, peaceful, compassionionate, generous and faithful, will never be in vain. The Lord is coming and He will reward you. Stay awake and be at alert. Do not let anyone distract you or deceive you. Keeo on doing God's will and when He returns you will go with Him and enjoy the blessedness of God's children.
Good morning dearest one. Smile😊as you do your work and do have a wonderful day, may God help you to be vigilant and ready for the coming of the Son of Man. Amen. *And may the Almighty God bless you: the Father and the Son and the Holy Spirit. Amen.
Meditation: Ephesians 2:12-22/Psalm 85:9-14/Luke 12:35-38
Watch-Word: Watch at all times, praying that you may be able to stand before the Lord.
Don't get distracted and be deceived. Jesus is coming again, therefore, keep doing good and be ready for His coming.
(Tuesday of the Twenty Ninth week in the ordinary time, year II)