A WORD FOR TODAY 20 SEPTEMBER 2019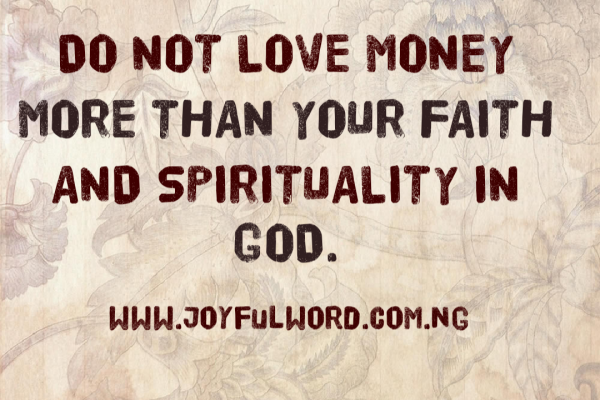 A WORD FOR TODAY
DO NOT LOVE MONEY MORE THAN YOUR FAITH
Saint Paul continues in his admonition of young Timothy on how to live well for God and for humanity. Today he tells him as he is telling us not to allow our craving for money or material acquisition come before our desire to live a holy and righteous life.
He noted that the love of money is the root of all evil. Money is good, but when we crave for it as if it is the only thing that matter, we may end up exposing ourselves to the things that will hurt us and make us not to live a good life. If we intend to be true disciples of our Lord Jesus Christ, we must love righteousness, godliness, faith, love, steadfastness, gentleness, and everything that will make us to live a good life and bring glory to the name of the Lord.
The unguarded craving for wealth and material possession has continued to be the problem of many in our world. We tend to spend more time trying to make more money and less time building up our faith in God. As a result of this many have have become greedy and they would want to acquire more and keep it to themselves while those around them are hungry and poor.
We must aim for godliness and be content with whatever we have and it is only in this way that we will be able to please the Lord and do the things that will make us to enjoy the blessed life in heaven on the last day. We have come into this life with nothing and we shall also leave with nothing, therefore never expose yourself to different temptations in your quest to make money and be rich and do not allow this to stop you from building up your faith in Christ.
We see in the gospel reading of today that Jesus has a role for women to play in the work of evangelization. They were called just like the other apostles and they followed Jesus in proclaiming God's kingdom through their work and the support they gave to Him and all those who have been called into ministry. We must be ready always to encourage everyone around us to use their gifts well for God and in building God's kingdom.
We must not contribute in what diminishes the dignity of women in our world, but to give them the necessary support to play their God given part in building up our society. Jesus gave them a role to play and we must do the same if we intend to be like Jesus. Although our roles in life may differ, but we are all created equal in the sight of God and as such we should never look down on anyone but give them opportunity to do their work well in building up the kingdom of God.
Today we celebrate the memorial of saint Andrew Kim Taegon, priest, Paul Chong Hasang and their companions. They were martyrs who died in Korea in their course of witnessing for Christ. We must learn from them to remain steadfast in our witnessing and to be ready at all time to suffer martyrdom for the sake of Jesus whom we represent.
Good morning dearest one. Smile😊as you do your work and do have a wonderful day. May your craving and desire for God supersede that of desire for material acquisition. Amen. And may the Almighty God bless you: the Father and the Son and the Holy Spirit. Amen.
Meditation: 1 Timothy 6:2-12/Psalm 49:6-10,17-20/Luke 8:1-3
Watch-Word: Blessed are the poor in spirit, for theirs is the kingdom of heaven.
Be contented always and never allow your quest and desire to be rich make you abandon your faith and spirituality. God must come first before everyother thing.
(Friday of the 24th week in the Ordinary Time, Year 1)