A WORD FOR TODAY 21 FEBRUARY 2020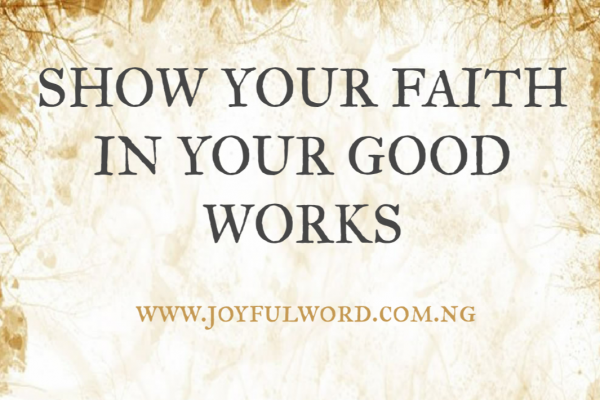 A WORD FOR TODAY
SHOW YOUR FAITH IN YOUR GOOD WORKS
Action they say, speaks louder than words. This means that the best way to show people what you mean by what you say is by what you do. We tend to believe more in the person who speaks less, but do more, than the one who speak more and do practically nothing.
The first reading of today reminds us that faith without work is dead. This means that we can only show the world that we have faith in God through the work that we do. It does not make any sense to claim to love God, but you fail to show some practical love to the needy who come around you from time to time.
When we only serve and worship God by our lips alone, we become fake and hypocritical in nature. True worship of God and faith in Him must be shown in our daily dealings with others. We must love others and be good to them and in that way they will come to believe in God by seeing that we do what we say.
It does not make any sense to claim to have faith and love God deeply, when you ignore the cry for help of someone in need of your assistance. You may not be able to solve everyone's problem at the same time, but the little you do to assist them will go a long way to show them the face of God.
We must concretely express our faith through our good works and the world should come to know Jesus simply by having an encounter with us. This will help us to have a place in God's kingdom on the last day as we see in the gospel reading. Therefore, keep helping, keep loving, keep making sacrifices and dying for others and in the end your reward must surely come.
Good morning dearest one. Smile😊as you do your work and do have a glorious day. May your faith in God be always shown in action and through your works may God be glorified. Amen. *And may the Almighty God bless you: the Father and the Son and the Holy Spirit. Amen.
Meditation: James 2:14-24,26/Psalm 112:1-6/Mark 8:34-9:1
Watch-Word: Faith without work is dead.
Speak less, but let the work you do for God in the people do the talking. speak less, but act more.
(Friday of the Sixth Week in the Ordinary Time, Year II)