A WORD FOR TODAY 21 MARCH 2020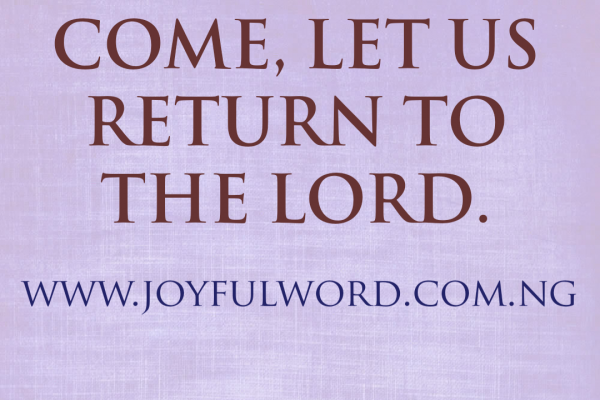 A WORD FOR TODAY
COME, LET US RETURN TO THE LORD.
It is the 22nd day of lent and as we said at the beginning of this season that Lent is a time to make amends from our evil deeds and return to the Lord to be renewed and revived. Now is a good time to assess ourselves to find out how far we have gone in rising and make that total metanoia movement that will take us back to God.
The prophet Hosea tells us in the first reading to return to the Lord so that we may be healed. Sin, definitely wounds us and makes us weak, but if we rise and come back to the Lord, His mercy will restore us, heal us and make us stronger.
To return back to the Lord is to make amends for our failings and begin to do those things that will please Him. If we sincerely repent of our sins, we shall find God ready to welcome us back and renew our spiritual energy.
The grace and virtue of humility is what we need if we are going to approach God. We must put our pride aside and humble ourselves before Him so that we can find mercy. If you really want to be helped by God you must humble yourself and acknowledge your sinfulness before Him.
The two men, the pharisee and the tax collector who went to pray in the temple as recorded in the gospel reading of today, came with different mindsets. One came with humility and the other with pride and the one with humility went home justified._
Have you been wounded by the power sin? Have you been held bound by the forces of evil, now is the time rise and return to the Lord so that He will save you. Jesus will show you mercy if you can humble yourself and return to Him.
Good morning dearest one, Smile😊 as you do your work and do have a fantastic weekend. May Jesus give you the grace to be humble as you approach His presence. Amen. And may the Almighty God bless you: the Father and the Son and the Holy Spirit. Amen.
Meditation: Hosea 6:1-6/Psalm 51:3-4,18-21/Luke 18:9-14
Humble yourself before God in prayers and you will find Mercy When you call upon Him.
(Saturday of the third week of Lent: Day 22.)