A WORD FOR TODAY 21 MAY 2020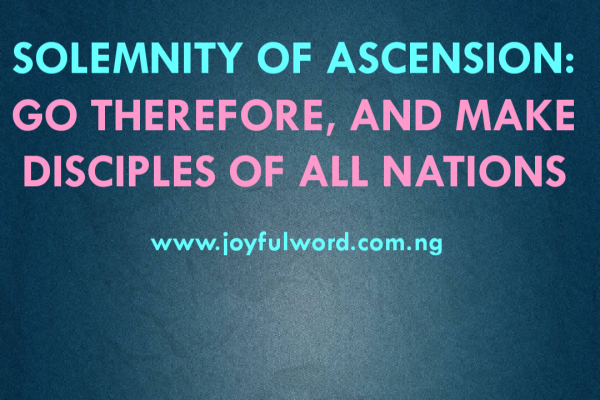 A WORD FOR TODAY
GO THEREFORE AND MAKE DISCIPLES OF ALL NATION
"But you shall receive power when the Holy Spirit has come upon you; and you shall be my witnesses in Jerusalem and in all Judea and Samaria and to the end of the earth. And when he had said this, as they were looking on, he was lifted up, and a cloud took him out of their sight." (Acts 1:8-9)
Today we celebrate the Solemnity of the Ascension of the Lord. It is a feast that is celebrated forty days after Easter in which Jesus gathered His disciples to the mountain near Bethany and after speaking to them ascended into heaven to resume His seat at the right hand of the Father. This symbolically marked the end of His earthly mission that began from the nativity, through His infancy years, to His time of proclamation of the Good News, His suffering, death and resurrection and finally His ascension. This indeed could be tagged, 'Mission Accomplished'. He came, He saw and He conquered.
It is mission accomplished, because Jesus fulfilled His purpose of coming into the world to save humanity, but it is not mission ended, because He is still with us and He is still saving lives. He finished His work and returned to His Father, but He never left us alone as we just heard in the gospel reading. He promised to be with us until the end of time.
Saint Luke in the first reading gives us a detailed account in the Acts of the Apostles when compared with other gospel writers of what happened on the day of the Acension of the Lord. Before the Lord departed, He instructed the apostles not to depart from Jesrusalem until they have received the Holy Spirit. This will signal the beginning of the Church, they will now have the power and mandate to go to the end of the earth to witness for Him and win souls in His name. The parting words of Jesus to His disciples were encouraging and soul uplifting. He is leaving them, but He is not leaving them, because He will work with and through them until the end of time.
Jesus ascended into heaven, but not without giving His disciples the mandate to continue with the work of proclaiming God's kingdom. He said to them in the gospel reading of today as He is saying to us too, "Go therefore and make disciples of all nation, baptizing them in the name of the Father and of the Son and of the Holy Spirit...and behold, I am with you always, to the close of the age.
We are the Church founded by our Lord Jesus Christ and we must continue to proclaim the Good News until the end of time. We must witness for Him and we must be conscious of the fact that He is with us, therefore we should never be afraid, but stay focused on our mission so that at the end of our earthly existence we shall return back to Him and receive our reward in heaven.
Winning souls for Jesus should be our priority, because He has won our souls to God and we should become a channel through which many others will come to believe in Him. Jesus is with us and He will be with us until the end of time. He is reigning with the Father and all authority is under Him. His name is superior above every name and with Him all things are possible. He is the head of the body the Church and will help us to contiue to proclaim His name in words and deeds until He returns. Our mission here on earth will come to an end someday, just like Jesus' own, but we must work hard as He worked hard so that when it does come we will be proud of what we have achieved and we shall have access to God's kingdom. Leave your comfort zone and go out and proclaim Christ and you will bring glory to His name and make new converts that will receive baptism, be saved and be on their way to heaven._
Good morning dearest one. Smile as you do your work and do have a glorious day. May the Lord who ascended into heaven give you the grace to remain steadfast in proclaiming His name. Amen. And may the Almighty God bless you: the Father and the Son and the Holy Spirit. Amen.
Meditation: Acts 1:1-11/Psalm 47:2-3,6-9/Ephesians 1:17-23/Matthew 28:16-20
Watch-Word: God has gone up with shouts of Joy.
Our mission on earth will come to an end someday, therefore, make use of this time to make the best out of it so that when the end comes, there will be no regret.
(Solemnity of the Ascension of the Lord)