A WORD FOR TODAY 21 NOVEMBER 2019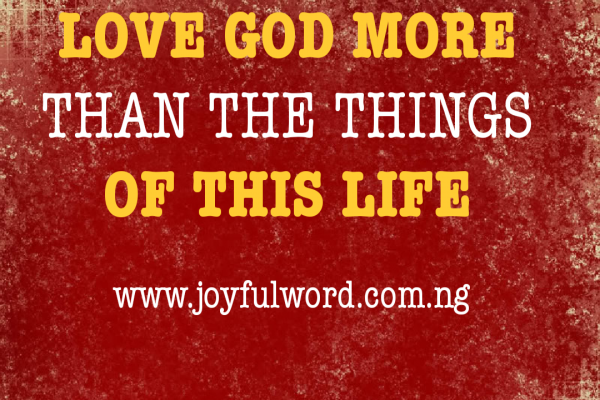 A WORD FOR TODAY
LOVE GOD MORE THAN THE THINGS OF THIS LIFE
As we continue to read from the book of Maccabees the heroic and courageous witnesses of men and women who chose to obey God's law above the abominable command of the king, we are expected to learn a lot from this stories so that we will be able to make the decision to follow God faithfully and be ready to lay down our life for Him at all times.
Mattathias and his sons in the reading of today refused to do what the king has commanded. He stood his ground and accepted to die rather than defile himself. Through their courageous witnessing, many who were desiring to do God's will followed them to run to the wilderness leaving all that they had acquired in the city behind.
They made a radical decision that cost them something, but in the end, it was a wise and good decision, because they accepted to be with the Lord than to be friends with the king who was determined to make them commit an abominable act against the living God. We must learn from this story to be true to our commitment to the Lord. If we are truly God's own, we must be ready to lay down our life for Him as His Son our Lord Jesus Christ laid down His life for us.
We must make the choice to seek and follow Jesus and leave the things of this life behind, because any undue attachment and unguarded quest we have for the material things of this life could cost us the joy of heaven. Therefore, we must let God's word take root in us and we must make the decision to obey God's law and do what it commands, than to obey men and disobey our creator.
The things of this life, wealth, property, clothes, jewelleries, pleasure, status, positions and so on, are all passing away and they will not last forever, therefore, we should never love them more than God Himself. We should spend ourselves for God here on earth by doing good and by living in love and in that way we shall be like Jesus and we will be friends with Him and our reward will be assured in heaven.
Let the world know where you stand and who you represent, never do something because everyone is doing it, instead do it only when you are convinced that what you do is pleasing to the Lord. This is the only way you will show the world that you belong to God and Him alone is enough for you.
Today we celebrate the memorial of the presentation of the Blessed Virgin Mary to the Lord. Just as our Lord Jesus Christ was presented to the Lord in temple according to the Jewish customs, the same was done for our Mother Mary by her parents saints Joachim and Anne, symbolizing her total dedication to the Lord and she lived her life serving the Lord forever. We must learn from this memorial to detach ourselves from the things of this world and to attach ourselves to God and love Him more than anything in this life.
Good morning dearest one. Smile😊as you do your work and do have a wonderful day. May God's grace abide in you and help you to always say yes to Him at all times. Amen. And may the Almighty God bless you: the Father and the Son and the Holy Spirit. Amen.
Meditation: 1 Maccabees 2:15-29/Psalm 50:1-2,5-6,14-15/Luke 19:41-44
Watch-Word: Today, harden not your heart, but listen to the voice of God.
Sometimes in order to please the Lord, you must take a flight from the things, places and persons that hold you down from soaring higher in the spirit.
(Thursday of the 33rd week in the Ordinary Time, Year 1)