A WORD FOR TODAY 22 FEBRUARY 2020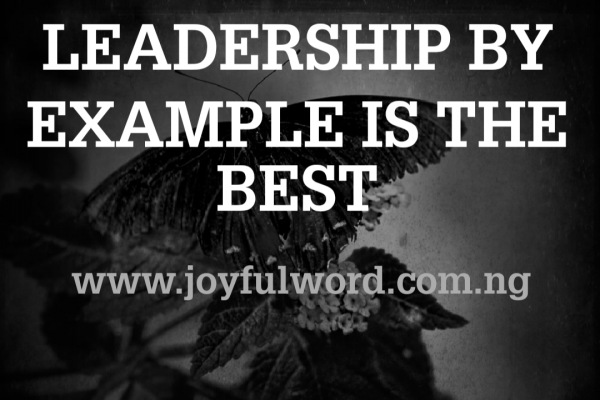 A WORD FOR TODAY
LEADERSHIP BY EXAMPLE IS THE BEST
When you hear about leaders and their styles of leadership, you are moved sometimes to ask, why, in most cases, only a few of the leaders we have are able to match their words with corresponding actions that will make you the one they are leading to believe more in them.
Positions of leadership can come either by appointment, selection or election both in the Church and in the civil society. However, in whichever way it comes, the most important thing is what you do as a leader. If you lead and serve well, you will inspire more good leaders for tomorrow, but if you lead badly, then you may end up creating monsters who will torment those they lead by their deeds.*_
Today we celebrate the feast of the Chair of saint Peter. It is a feast in which we rejoice for the gift of the Church and her leaders. It signifies the unity of the Church founded upon the apostles. The pope is the vicar of Christ whose authority derives from that which Jesus bestowed upon Peter as we have recorded in the gospel reading of today. Jesus said to Peter, "And I tell you, you are Peter, and on this rock I will build my Church, and the gates of hades shall not prevail against it" He is a leader, but he is the servant of all and he shows good example as Christ showed us while He was on earth.
God has given us the gift of the Church and her leaders and we must continue to play our part to propagate God's kingdom either as ordained ministers or lay faithful. There is something you can do for God in His Church. Always work in union with the Church and you will fulfill God's will for your life.
The kind of leadership that pleases the Lord is that which shows itself in leading people aright. We must show good examples as leaders and those we lead could be inspired by our work and activities. Serve God in the people in humility and you will be like Jesus who came not to be served, but to serve and to give His life as a ransom for many.
Good morning dearest one. Smile😊as you do your work and do have a magnificent weekend. May God bless you through the Church and may your prayers for her leaders never go unanswered. Amen. And may the Almighty God bless you: the Father and the Son and the Holy Spirit. Amen.
Meditation: 1 Peter 5:1-4/Psalm 23:1-6/Matthew 16:13-19
Jesus Christ has given us the gift of the Church. We must love the Church and work for her good and more importantly support her leaders with our prayers so that they will continue to inspire others through their service and good works.
(Saturday of the Sixth Week in the Ordinary Time, Year II)