A WORD FOR TODAY 22 MAY 2019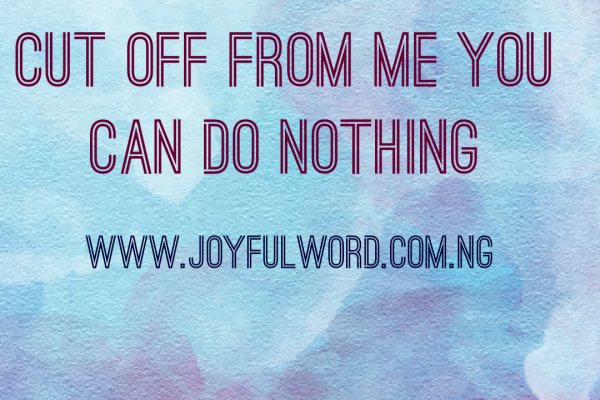 A WORD FOR TODAY
We are bound to disagree with one another from time to time, but how we go about handling it could make for peace or war. Dialogue and constant consultations are necessary tools that are applied in resolving difficult issues that may cause conflict or quarrel among people. We see this in the first reading of today how Paul and Barnabas decided to consult the apostles in Jerusalem in order to resolve the circumcision issue that wanted to tear them apart.
When we experience disagreement over the things we believe in, it is not a time to kill one another, but a time to enlighten the other party more, through consultative dialogue, it will help to broker peace and also help the parties to resolve their issues amicably. We should also be humble enough to seek the help of those who know better than us in matters that we cannot handle by ourselves.
Jesus reminds us once again in the gospel reading of the need to stay connected to Him always so that we will be able to bear fruits for Him. He is the vine and if we intend to survive as a branch we must abide in Him for apart from Him we can do absolutely nothing.
We can only survive in this life if we remain in Christ and make our foundation to be solidly rooted in Him. He will nourish our soul with His word and we will walk in His light and darkness will not overcome us. He will supply us with the nutrient that will make us produce good fruits in plenty in season and out of season.
To bear fruit for Jesus, we must be ready to be pruned by Him, that is, He will take away things that are not necessary in us so as to make us stay focused and keep living a holy and unblemished life. He will discipline us from time to time so that we will not drift away from the faith or our responsibility.
It is by the fruits we bear that people will come to know who we serve. When we bear good fruits of love, patience, peace, mercy, honesty, kindness and so on, we will be true disciples of Jesus and we will bring glory to the Father who will give us whatever we ask in His name.
Good morning dearest one. Smile😊 as you do your work and do have a fruitful day. May Jesus help you to bear fruits for Him in abundance through your good works. Amen. And may the Almighty God bless you: the Father and the Son and the Holy Spirit. Amen.
Meditation: Acts 15:1-6/Psalm 122:1-5/John 15:1-8
Watch-Word: For cut off from me you can do nothing!
If we are going to bear fruits in plenty we must always remain in Jesus who is the vine. He will supply us with all we need to bear good fruits for Him.