A WORD FOR TODAY 22 NOVEMBER 2019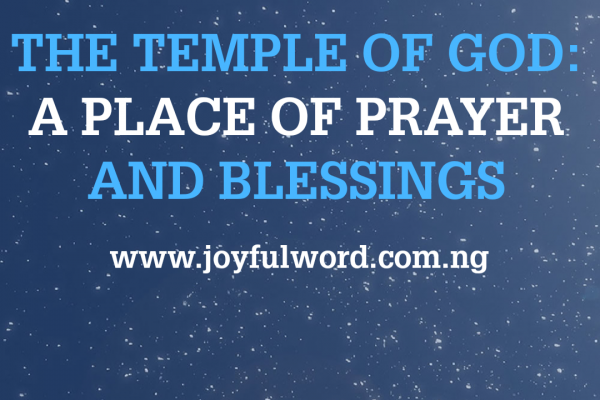 A WORD FOR TODAY
THE TEMPLE OF GOD: A PLACE OF PRAYER AND BLESSINGS
As I read the first reading of today I vividly remember the joy I had in my heart when our parish St. Valentine Catholic Church was dedicated on the 9th of June 2018. My joy was overflowing because by virtue of that dedication the Lord came to dwell in our Church and made it His home. God's blessings has continued to be poured out on His children who come to this house of God to offer sacrifices and to pray.
After the persecution, destruction and defilement of the temple by the king and his cohorts, the Lord in the end gave victory to his children over there enemies as we see in the first reading of today and so they took it upon themselves to cleanse the temple and dedicate it so that the Lord will come to dwell in it and bless them. Their joy and gladness were restored and their sorrow was wiped away.
This is something we must hold dear in our heart always, that God does not abandon His people in their times of trouble. He comes to help us so that we can overcome. Yes, weeping may endure for the night, but joy comes in the morning for those who believe. In our times of trouble and pain, we must hold unto the Lord and look up to Him with faith, He will definitely come to our aid and help us to overcome.
We have a responsibility to always cleanse the Lord's temple and make it a true place of prayer and not a market place. We are God's temple and for God to dwell in us and make His home in us, we must constantly purify and sanctify ourselves so that we will be worthy for Him to dwell in us. We must remove from our heart anything that defiles us and make us unworthy to call upon the name of the Lord.
_Just as we must take care of the physical temple, because it is a place where we encounter the Lord, pray and offer sacrifices to Him, we must also take care of our soul which is also God's temple. We must make out time to purify ourselves through the sacrament of reconciliation so that when we call upon the Lord, it will be from a pure and holy heart.
Jesus was not afraid to do the right thing, instead, he courageously drove away all those who were destroying the sanctity and sacredness of the temple and turning it into a den of robbers. We must learn from Him to stand up against evil and to speak out against unjust practices. We must not refuse to speak the truth even if we are persecuted, because it is much honourable to die for the truth, than to live a life full of lies.
The temple of God is a place of prayer and God's blessings dwell in it. We must make effort to always come before the Lord in His temple to praise and glorify Him and to seek His face. The Lord will prosper us when we seek Him in truth and in spirit. We must take care of God's temple, both the physical one and the spiritual one which is our soul so that God Himself will take care of us and bless us abundantly._
Today we celebrate the memorial of saint Cecilia, Virgin and Martyr. She was a Christian woman who embraced God's love and gave herself to God. She is the patroness of sacred music. We must learn from her to love purity and to make serious effort to always keep ourselves clean for the Lord to dwell in us.
Good morning dearest one. Smile😊as you do your work and do have splendid day. May God's grace help you to always make God's temple which you are, a place of prayer and holiness. Amen. *And may the Almighty God bless you: the Father and the Son and the Holy Spirit. Amen.
*Meditation: 1 Maccabees 4:36-37,52-59/1 Chronicles 29:10-12/Luke 19:45-48
Watch-Word: My sheep hear my voice, says the Lord; and I know them and they follow me!
God's temple is Holy and we must keep it as such if we intend to see Him on the last day.
(Friday of the 33rd week in the Ordinary Time, Year 1)