A WORD FOR TODAY 23 AUGUST 2019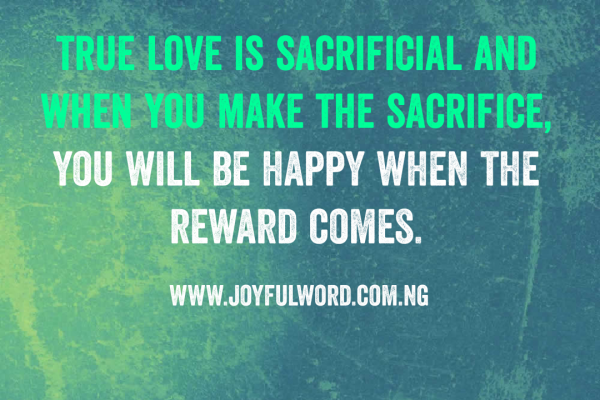 A WORD FOR TODAY
So many factors in life can make people to migrate from one place to the other. Sometimes people leave their land because of economic hardship or war in search of greener pasture in a foreign land for survival. Today in our world migration is a very topical issue because of too many deaths that is being recorded in the sea and deserts of Africa because of illegal migration. If there is love in the world as it is supposed to be, people will not be left out to die in the sea, but efforts will be made to address the pertinent issues that make people want to migrate illegally to another country thereby risking their lives in the sea.
Difficult times can come to us from time to time, but the decision we make at those times should be made out of love and not just for convenience. Elimelech and his family experienced their own share of hard times and when Naomi was left alone with her two daughters-in- law after the death of her husband and two sons, she decided to let them go back to their family so that she could return back to her land.
One of them, Orpah bid Naomi farewell and left, but the other one, Ruth; stayed back and said to her aged mother-in-law, "For where you go I will go, and where you lodge I will lodge; your people shall be my people, and your God my God". This words of Ruth and her corresponding action is simply a display of sacrificial love in the highest order.
To be a true disciple of Jesus we must have love for God as a matter of priority and we must let the love we have for God move us to make sacrifices for others in order to give them joy and help them heal from the pain and sorrows in their heart. Ruth chose love above selfishness and greed, she chose love above personal comfort. In the eyes of men she must have been making a mistake, but later in life, the love she showed to her mother-in-law brought her tremendous love and joy.
We must learn to love as the Lord has instructed us to do. We must learn to give love especially to the elderly, weak, poor, sick, those in prison, the hungry, those living with disability and others who may be in various needs who will not be able to pay us back for the love we show to them, but will only say a prayer to God on our behalf.
True love is sacrificial and it comes with some level of pain and discomfort, but when you persevere like Jesus did to endure the cross, you will get the reward that will put a smile on your face, wipe away your tears and restore your joy.
We must learn today to choose love above hatred and wickedness, we must choose love above selfishness and greed, we must choose love above unguarded quest and thirst for material acquisition without a corresponding desire for charity. We must choose love above our personal comfort, because love is supreme and anyone who loves sacrificially because of Christ without any interest attached, will definitely receive the reward from Him both here and here after.
Good morning dearest one. Smile😊as you do your work and do have a splendid day. May your desire to love others and make sacrifices for them for the sake of Christ continue to grow everyday. Amen. And may the Almighty God bless you: the Father and the Son and the Holy Spirit. Amen.
Meditation: Ruth 1:1,3-6,14-16,22/Psalm 146:5-10/Matthew 22:34-40
Watch-Word: Love the Lord your God with all your heart and Al's love your neighbour as yourself.
Sacrificial love must cost you something and only the brave and courageous can go for it. Choose true love always and make the world a better place.