A WORD FOR TODAY 23 JANUARY 2020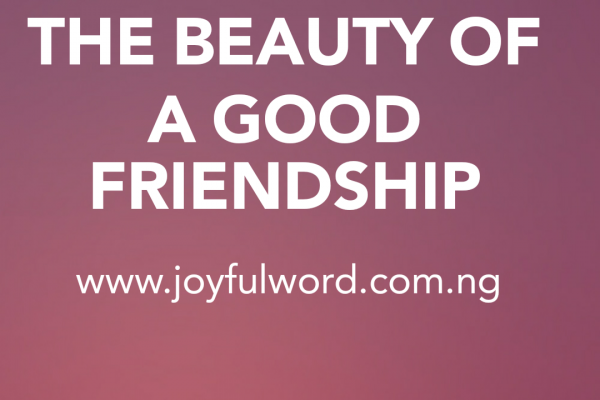 A WORD FOR TODAY
THE BEAUTY OF A GOOD FRIENDSHIP
It is one thing to have a friend and it is another thing to have a good and loyal friend. A bad friend is truly a liability and you should not keep such persons around you, because they will always add to your pain and sorrow and could lead to your downfall and not your rising._
A good friend will be willing and ready to speak for you, fight for you and even die for you. He will be truthful to you and will defend your cause. A good friend will show you opportunity to excel when he or she finds one and the person will not hesitate to call you to order when you lose focus or try to follow the wrong route in life.
The beauty of a good friendship is seen in the first reading of today in how Jonathan treated David his friend when it was clear to him that his father Saul was planning to kill him out of jealousy. He did not take side with his father, instead, he spoke sense into his father and defended David before him. He made his father to realise the mistake he was about to make and settled the rift between them.
A good, trustworthy and loyal friend is worth more than silver and gold. To have such a person around will always be a good and positive thing to do and it will help you be the best you can be and achieve your goals as the day goes by.
Through the help of Jonathan, David hid himself from Saul and was safe from the evil that he has planned for him. There is need for us to stay away from those who call themselves our friend but do not make any meaningful contributions to our life, but are more of 'parasites' who feed on us and 'suck' us dry. They are selfishly only interested in what will benefit them in the friendship without any thought of reciprocity.
We must also learn to stay away from places and people who portend danger to us. David stayed away from Saul, because he hated him and wanted to kill him and Jesus stayed away from the crowd when they wanted to crush him as recorded in the gospel of today. It is simply wisdom in action and it will help you stay alive so as to do more good another day.
Good morning dearest one. Smile as you do your work and do have lovely day. May Jesus be your best friend and may He help you to get good friends and also be a good friend to those who come around you. Amen. And may the Almighty God bless you: the Father and the Son and the Holy Spirit. Amen.
Meditation: 1 Samuel 18:6-9,19:1-7/Psalm 56:2-3,9-14/Mark 3:7-12
Watch-Word: In God I trust: I shall not fear
Good friends are hard to find, but when you find one, do your best to keep them by being good to them also.
(Thursday of the Second Week in the Ordinary Time, Year II)