A WORD FOR TODAY 23 MARCH 2020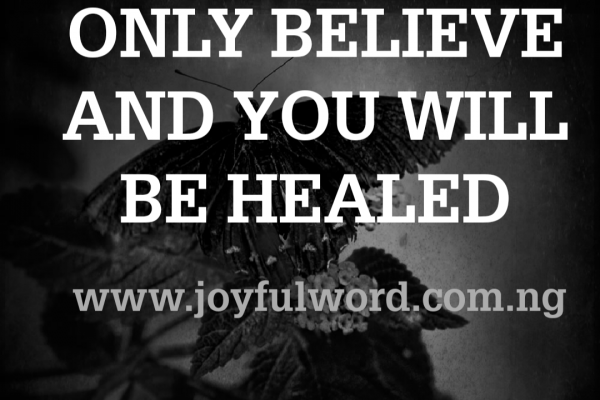 A WORD FOR TODAY
ONLY BELIEVE AND YOU WILL BE HEALED
When you are confronted with the vicissitudes of life, you will definitely want to find a way out. To some, they will go to seek for help where there is no help and to others they will put their trust in God and hope for the best.
We must strive to be like the official in the gospel reading who recognized that Jesus could help him cure his son and he went to Him in humility and with faith and when he asked Him, Jesus told him to go that his son will be well and he went away believing and it did happen as Jesud has said.
We must learn to believe in God at all times, in good times and in bad. We must never give up, but trust that He will always help us and come to our aid if we put our trust in Him. God can do something about every situation we experience, but we must believe in Him and let Him help us in His own way and at His own time.
The Lord is near to the broken hearted. Make your faith come alive and the miracles you seek will happen. Jesus will encounter you and He will speak the word that will bring you transformation. He will heal you and you will glorify His name.
What are you waiting for to come to Jesus? What are you waiting for to call upon Him? He can help you, but you need to believe. You need to trust Him alone even in this time of the plague and pandemic of covid-19. You must not doubt, but hope in Him because he will never disappoint you. He will heal and restore our land as we anchor our faith in Him.
Tell Jesus about your sickness, both physical and spiritual. Believe in Him and your healing will come speedily, for was wounded for our transgression, he was crushed for our iniquities and upon Him was the chastisement that made us whole and by His stripes we are healed.(Isaiah 53:5)
Good morning dearest one. Smile😊as you do your work and do gave a blessed new week. May your faith in Jesus bring you the healing you need. Amen. And may the Almighty God bless you: the Father and the Son and the Holy Spirit. Amen.
Meditation: Isaiah 65:17-21/ 30:2,4-6,11-13/John 4:43-54
Watch-Word: Seek good and not evil.
Do not let your lack of faith in God make you lose blessings from above. Put your faith into action.
(Monday of the fourth week of Lent. Day 23)