A WORD FOR TODAY 23 MAY 2019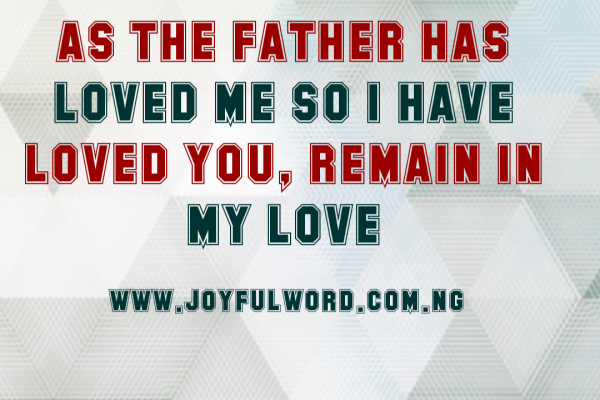 A WORD FOR TODAY
The first reading of today presents what transpired at the Council of Jerusalem, how Peter and the other apostles waded into the matter brought before it by Paul and Barnabas. Peter made them to understand that we are saved by grace and not by circumcision, therefore, they should not allow such matter to stop them from welcoming into their midst those the Lord has saved through His love and mercy.
The leadership quality of Peter as head of the apostles is something that should be emulated. He did not impose his views on the people, rather, he explained to them how God in his mercy and love made the gentiles to receive the Holy Spirit and therefore found salvation. His word made an impression in the hearts of those who listened to him. We must learn as leaders and disciples of Jesus to have a heart filled with love and to be humble and patient in discharging our duties so as to win more souls for Christ through our actions.
If we do not have love in our heart it will be very difficult for us to be considerate to others and try to help them when they are in error. It is the love of God that moves us to be of help to others and to witness for Him. We must aim always to grow in Gods love so as to be able to shine out for Him everywhere.
We must remain in God's love if we intend to be happy in this life and in the world to come. Jesus said clearly in the gospel reading of today, that as the Father has loved Him so He has loved us by coming to die for us, therefore to reciprocate that love, we must remain in His love by keeping His commandments.
Obedience to Jesus is the best way to show Him that we love Him and when we fill our hearts with His word, we will be able to do good and love others as Christ has loved us. If we want to be joyful and for our joy to be complete we must remain in the love of Christ.
Step up this day and be moved by God's love as you carry out your responsibilities. Shine out as God's light, so that those who encounter you will come to believe in Him who has chosen you to be His disciple.
Good morning dearest one. Smile😊 as you do your work and do have a joyful day. May God's love fill your heart with joy and may you share it with others. Amen. And may the Almighty God bless you: the Father and the Son and the Holy Spirit. Amen.
Meditation: Acts 15:7-21/Psalm 96:1-3,10/ John 15:9-11
Watch-Word: As the Father has loved me, so I have loved you!
When we open our hearts to receive God's love, we will be able to live in love and act in love and then we will be joyful.