A WORD FOR TODAY 23 NOVEMBER 2019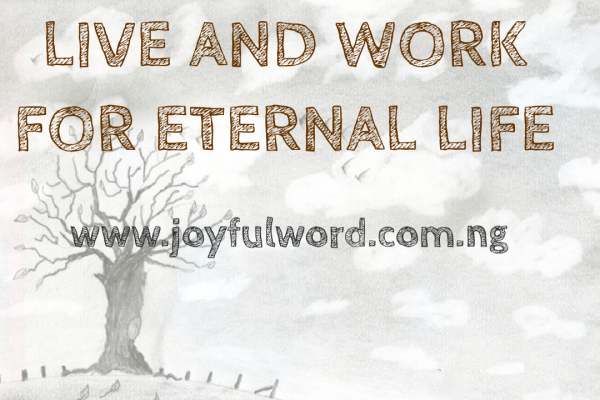 A WORD FOR TODAY
LIVE AND WORK FOR ETERNAL LIFE
There is life after death and this is what our faith in Jesus Christ teaches us. We must believe in this and our living will make sense to us, because life does not end here. After this life, the dead who believe in Christ shall rise to eternal life and they will see God as He is and will live in His presence forever.
Death, therefore, is not self destruction or annihilation, but a channel and passage to a life that never ends. If we belong to Christ here on earth, we shall also be with Him at the resurrection. Christ died and rose from the dead, therefore, if we die believing in Him, we shall rise to eternal life, We will not be held bound by the force of this earth, we shall rise to newness of life in the kingdom of God.*_
This is our hope and it will never fail us. We must continue to believe in it, because God is the God of the living and not God of the dead. When our earthly existence comes to an end we shall return to our creator, however, where we shall be and what our reward will be will depend on what we have done here on earth. If we do good we shall see God face to face, but if we dwell in evil, we shall be cast out of God's presence.
The king Antiochus with all his powers and glory came to submit to God in the end as we can see in the first reading of today. He committed a lot of evil against God's people and he destroyed so many, however, when God said it is enough, he could no longer destroy any person. He remembered all the evil he did and grief filled his heart. He did not win all the time, because God intervened to save His children. We must learn to do good always so that when we die, we shall not have any regrets or sadness to fill our heart.
The wicked may fight and persecute us, they may try to kill us, but they cannot win all the time. We serve a living God who does not abandon His children in their times of need, but comes to our aid and gives us the strength to triumph over the evil that wages war against us.
If we are going to be happy when we leave this earth, we must strive everyday to live a good life and to do good to people and in this way we shall be like Jesus and when we die we shall rise into eternal life and we shall behold Him and eternal joy will be our reward. We may suffer here on earth, but God will reward us for He will never abandon us.
Good morning dearest one. Smile😊as you do your work and do have a magnificent weekend. May God come to your aid in your time of need and may He reward you with eternal life. Amen. And may the Almighty God bless you: the Father and the Son and the Holy Spirit. Amen.
Meditation: 1 Maccabees 6:1-13/Psalm 9:2-4,6,16,19/Luke 20:27-40
Watch-Word: Our Saviour Christ Jesus abolished death and brought life and immortality to light through the Gospel.
Do good to people always and goodness shall be your reward at the resurrection.*
(Saturday of the 33rd week in the Ordinary Time, Year 1)