A WORD FOR TODAY 23 OCTOBER 2019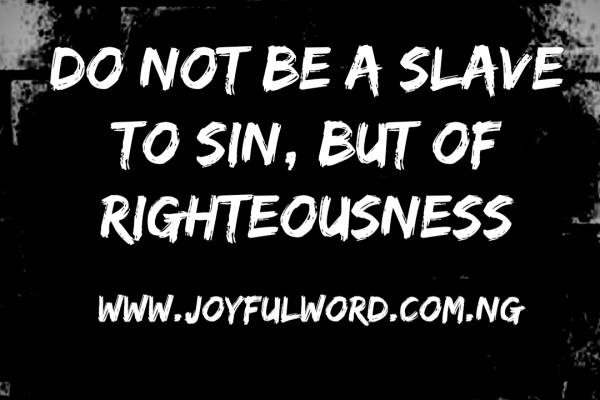 A WORD FOR TODAY
DO NOT BE A SLAVE TO SIN, BUT OF RIGHTEOUSNESS
When God created us, He made us to be holy and righteous, but man sinned against God and he was wounded. However, God did not allow man to be destroyed by sin, He sent His only begotten Son to come and die in order to set us free from the power of sin and death.
Therefore, since we have been set free from sin and brought into life through the supreme and ultimate sacrifice of our Lord Jesus Christ on the cross, we must strive everyday not to become slaves to sin again and not to let sin reign in our mortal bodies. This will simply amount to making ourselves become slaves for a second time.
Sin is sin no matter how little or insignificant it may be in the eyes or mind of the one who commits it. We must aim for for righteousness and strive everyday to be holy in words and deeds and our body should not be instruments of sin, but of righteousness. Our everyday effort will be to live a life that will bring glory to God and to do the things that will make others to find eternal life through our works and activities.
To overcome sin we must be ready to pay a price and let go of every undue attachment to persons, places and things that lure our heart away from God's presence and hold us in bondage so that we become slaves to them through obedience. We must yield ourselves in obedience to righteousness, because that is our calling and God will be pleased with us when we run away from sin and in obedience to Him seek for righteousness and only those things that will make us obey Him and do His will always.
The grace of God is given to help us live a holy life, but we must not continue to live in sin for grace to abound. We must not let our body yield to sinfulness, but to righteousness. We must discipline ourselves and make sure that our body remains the temple of God where He dwells and therefore, no evil should be allowed to corrupt or defile this temple.
God has given us much and much will be expected of us in the end. There is no room for complacency, because any distraction that makes us to yield into the life of sin will only bring pain, disappointment and sadness in the end. Sin brings us down, but holiness raises us up. We must obey God always and for this to happen we must discipline our body, train our mind and heart to only seek and love those things that will make us holy and not the things that will make us become sinful.
Stay awake and guard your heart and members of your body from acts of sinfulness. Fight it as a battle everyday and you will overcome for the grace to conquer all things has been given to us in Christ. If you fall in the course of the fight to overcome sin, rise up, clean up yourself and continue to fight again, for victory over sin will come to those who did not give up, but those who through grace persevered till the end.
Good morning dearest one. Smile😊as you do your work and do have a wonderful day. May God's grace strengthen you as you aim to live a holy life and may sin not hold you bound anymore. Amen. And may the Almighty God bless you: the Father and the Son and the Holy Spirit. Amen.
Meditation: Romans 6:12-18/Psalm 124:1-8/Luke 12:39-48
Watch-Word: Our help is in the name of the Lord.
Never give up in the fight to overcome a sinful habit, but strive everyday to become a slave to righteousness and you will great in the eyes of the Lord.
(Wednesday of the 29th week in the Ordinary Time, Year 1)