A WORD FOR TODAY 23 OCTOBER 2020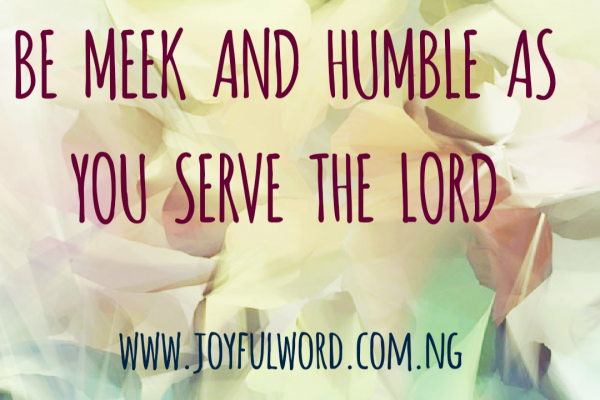 A WORD FOR TODAY
BE MEEK AND HUMBLE AS YOU SERVE THE LORD
"I therefore, a prisoner for the Lord, beg you to lead a life worthy of the calling to which you have been called, with all lowliness and meekness, with patience, forbearing one another in love"(Ephesians 4:1-2)_
To bear the name 'Christian' is something that will make us to strive everyday to be like Christ whom we represent. Infact, being Christian goes deeper than just being tagged as one, it more importantly involves a doing by way of action which will correspond with what we say and this will help us to win people over to God.
St. Paul admonishes us in the first reading of today to walk in the manner worthy of our calling. If we shall achieve this, we must be humble and meek in service and character. We must be like Jesus who has called us to come and follow Him.
Humility and meekness sets us apart from those who move about in arrogance and try to be who they are not. They are too proud and their attitude will not merit them a place in God's kingdom.
The virtues of patience, love, unity and compassion are very important as we follow Jesus. We have been called to be holy and blameless before God, therefore, we must always strive to represent Him well especially in the things we do.
We must strive not to be like the hypocrites as we follow Jesus. It will be nice that we promote peace among people and try to show ourselves as peace makers through what we do and say.
_*Good morning dearest one. Smile😊 as you begin your day and do have a peaceful day. May Jesus help you to be humble and peaceful as you serve Him. Amen. And may the Almighty God bless you: the Father and the Son and the Holy Spirit. Amen.
Meditation: Ephesians 4:1-6/Psalm 24:1-6/Luke 12:54-59
Watch-Word: These are the people who seek your face, O Lord.
God wants us to live for Him, therefore never stop walking in the way that will make His name known.*
(Friday of the Twenty Ninth week in the Ordinary time, year II)