A WORD FOR TODAY 24 APRIL 2020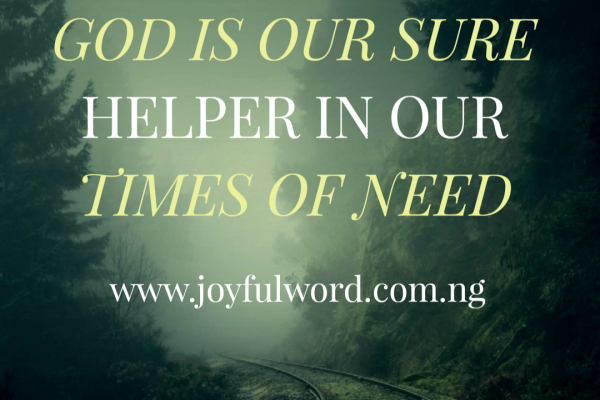 A WORD FOR TODAY
GOD IS OUR SURE HELPER IN OUR TIMES OF NEED
"Jesus said, Make the people sit down." Now there was much grass in the place; so the men sat down, in number about five thousand. Jesus then took the loaves, and when he had given thanks, he distributed them to those who were seated; so also the fish, as much as they wanted. And when they had eaten their fill, he told his disciples, "Gather up the fragments left over, that nothing may be lost." (John 6:10-12)_
There is no other explanation we can give to the scenarios in the first and gospel readings of today, except that it is simply God coming to help His children in their time of need.
In the first reading of today we see how God used a pharisee named Gamaliel to defend the apostles and to save them from being incarcerated. The council took his advice and Peter and the rest of the apostles were set free after they have been beaten. It would have been worse if God had not intervened. However, to show that they were not deterred by the suffering they experienced, they rejoiced in their ordeal and continued to proclaim the name of Jesus.
We face various challenges from time to time in our lives and sometimes it looks as if it will overwhelm us and we may not know what to do. Such moments should always be a time to call upon God and to hope in Him, because He will not abandon us, but will send us the needed help so that we will be free. God can use anyone to help you in your times of need, therefore always look up to Him because from Him will your help come. (Psalm 121:2)
In the gospel reading we see how Jesus provided for the spiritual and physical needs of the of the multitude that came to Him to hear the word of God. He not only fed them spiritually, but also provided food to nourish their body. They all ate and were satisfied and there was left over.
God is our sure helper in our times of need. All we need to do is to trust in Him and to remain steadfast in our faith, because He will never fail or abandon those who call upon His name. No matter what our needs are, we must learn to trust in God who can use anyone to help us and restore our joy and peace.
We are also encouraged to help others as God helps us. We must strive to be generous with what we have just like the little boy in the gospel reading. We may have little to give and share, but when we give our little to Jesus with joy, He will turn it to many and we will have more than enough for everyone who comes to us for help. We must learn to grow in compassion so that we do not think only of what people will do for us, but for what we can do for people, because God can make use of us at anytime to help those who come to Him for help.
Good morning dearest one. Smile😊as you begin your day and may you experience God's help in your time of need. Amen. And may the Almighty God bless you: the Father and the Son and the Holy Spirit. Amen.
Meditation: Acts 5:34-42/Psalm 27:1,4,13-14/John 6:1-15
Watch-Word: Be generous to others as God is generous to you.
Do not give up in your times of need. Always remember that you have a God who can do all things to help you. Stay calm and be hopeful for He will never fail.
(Friday of the Second Week of Easter. Cycle A)