A WORD FOR TODAY 24 JANUARY 2020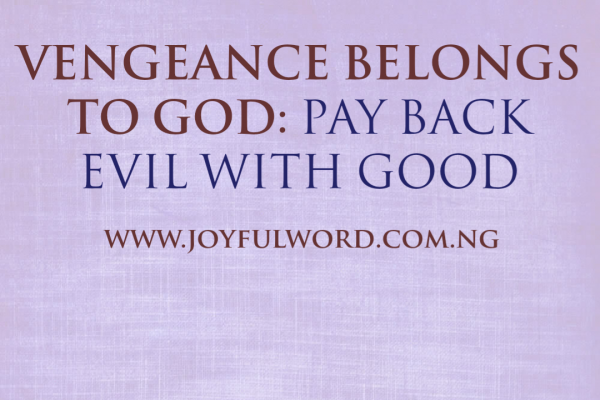 A WORD FOR TODAY
VENGEANCE BELONGS TO GOD: PAY BACK EVIL WITH GOOD
Experience has shown that from time to time, people may offend us, start a quarrel with us and even hate us for no just cause. The treatment they give to us may be too bad and hurtful that we may even be considering in our mind to pay them back in their own coin. Their attitude may even push us to the point of hating them and seeking out opportunity to exert a revenge.
_However, for anyone who is in Christ Jesus, our attitude and response to every evil done to us should be that of love as our Lord Jesus Christ has shown to us through His example on the cross. He forgave those who killed Him and He taught us to love our enemies and pray for those who persecute us. No one says that it will be easy, but this is the best way to have peace in your heart and respond to those who hurt you.
In the first reading of today we see how David was presented with the opportunity to kill Saul his enemy, but he chose not to kill him, but left the judgement for God. He paid back evil with good and that is counted for him as righteousness before the Lord.
We must learn from this story, not to seek revenge or practise 'tit for tat' at any point in time in our life, but to always be ready to love those who do us evil and pray for them as Jesus has instructed. In this way we shall be like Him who forgave those who offended Him and loved them more.
To love the person who has hurt you and to pray for them is the best form of revenge you can offer. You must do good to them and let God be the judge. You must forgive them as we also sin against God from time to time and He forgives us when we come to Him.
We are called just like the disciples in the gospel reading of today to go out and proclaim the love of Christ and to show people mercy when they hurt us and in that way we shall obtain mercy from the Lord when we sin against Him.
Good morning dearest one. Smile😊as you do your work and do have a splendid day. May God's mercy for you move you to forgive others who have offended you and show them love. Amen. And may the Almighty God bless you: the Father and the Son and the Holy Spirit. Amen.
Meditation: 1 Samuel 24:2-20/Psalm 57:2,3-4,6,11/Mark 3:13-19
Watch-Word: Have mercy on me, God have mercy.
Never pay back evil with evil, but show the one who has hurt you the face of Jesus in love.
(Friday of the Second Week in the Ordinary Time, Year II)