A WORD FOR TODAY 24 MARCH 2020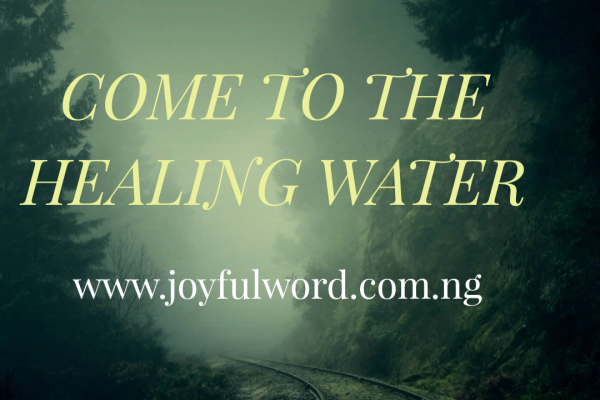 A WORD FOR TODAY
COME TO THE HEALING WATER
Healing is something that we crave for when we are sick, but it is important to note that healing is not just about the physical body alone, it could also happen to the soul in the spiritual.
The prophet Ezekiel in the first reading talks about the water that flows from the sanctuary. It has healing powers and everything it touches comes back to life. This is a splendid scene to behold and it is something that happens to a man who has faith in Christ.
An encounter with Jesus will make us to know that He has the power to make all things well, because He is the living water and anyone who drinks of Him will not be thirsty again.
The sick man near the pool called Bethzatha could not find help for thirty eight years until he encountered Jesus and everything turned around for him. He was healed not just of the physical sickness, but of the sickness of the soul caused by sin.
You too can find the healing you seek when you come to Jesus. We must place our trust and hope in Jesus in this difiicult time in our world when we are facing the COVID-19 pandemic. He is ready to help us become strong in the physical and also in the spiritual. If you have been wounded by sin, now is the time to call upon Him and you will be forgiven and be healed.
Good morning dearest one. Smile😊as you begin your day and do have a joyful day. May Jesus meet you at your time of need and may He help you to rise again. Amen. And may the Almighty God bless you: the Father and the Son and the Holy Spirit. Amen.
Meditation: Ezekiel 47:1-9,12/Psalm 46:2-3,5-6,8-9/John 5:1-16
Watch-Word: The Lord of host is with us, the God of Jacob is our stronghold.
God can help you if you come to Him. Cry to Jesus in your time of pain and He will heal you and restore you.
(Tuesday of the Fourth week of Lent. Day 24)