A WORD FOR TODAY 24 OCTOBER 2019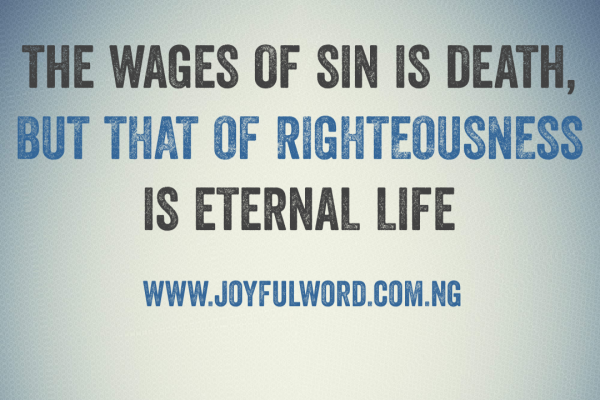 A WORD FOR TODAY
THE WAGES OF SIN IS DEATH, BUT THAT OF RIGHTEOUSNESS IS ETERNAL LIFE
If we profess that we are God's children, it will be seen in what we do and say. People will know us and where we belong by the fruits we bear. It is either we are bearing fruits of righteousness or that of evil and wickedness. Whichever one we bear, we are definitely going to receive a reward in the end. Saint Paul tells us today in his letter to the Romans that the wages of sin is death, but the wages of righteousness is eternal life.
To live in sin is to reject Christ and to refuse to be His friend, because it wounds Him and also makes us to be lost. If we fail to live a righteous life we shall become slaves to sin and when we continue to live in sin without repentance, we are going to die in it and we will not inherit eternal life.
The choice of what we get in the end, either eternal life or eternal death lies in our hand. We make the decision and live it out. We do not continue to live in sin and expect to receive eternal life. If we want to be rewarded with eternal life in heaven on the last day, then, righteousness must be our watch-word. We must strive to be pure in mind and heart and do those things that will please God.
If we want eternal life, we must refrain from doing those things that will make us sinful and disobedient, those things that will not bring honour and glory to God. We must refuse to let our hearts and mind be filled with bitterness and wickedness. We must love holiness and strive after anything that will help us live it out on a daily basis and avoid those things that will make us become impure.
The Lord, however, does not want us to die in sin, but for us to repent so that we can inherit eternal life. We must hearken to the Lord's voice and turn around from our evil ways and seek righteousness alone. We must love God and our neighbour and be ready to let Him guide us and lead us in the path of life.
For us to gain eternal life, we must value God above every created thing and we must not compromise our faith in Him. We must love Him with all our heart and mind and detest with every sense of honesty anything that will make us sinful. We must reject sin totally if we are going to get the reward of eternal life in heaven, for judgement day will come and each of us will be rewarded according to our deeds.
Good morning dearest one. Smile😊as you do your work and do have a peaceful day. May God be merciful to you and may His grace help you to love righteousness and reject sin. Amen. And may the Almighty God bless you: the Father and the Son and the Holy Spirit. Amen.
Meditation: Romans 6:19-23/Psalm 1:1-4,6/Luke 12:49-53
Watch-Word: Blessed the man who has placed his trust in the Lord.
True repentance brings forgiveness and when we are forgiven, we must shine out as God's light to show others the way to life.
(Thursday of the 29th week in the Ordinary Time, Year 1)