A WORD FOR TODAY 24 OCTOBER 2020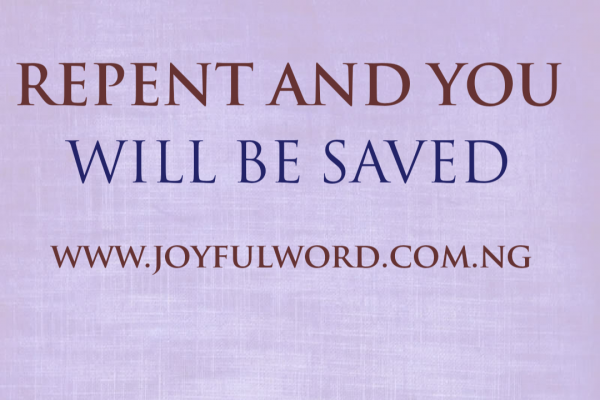 A WORD FOR TODAY
REPENT AND YOU WILL BE SAVED
"And he answered them, "Do you think that these Galileans were worse sinners than all the other Galileans, because they suffered thus? I tell you, No; but unless you repent you will all likewise perish."(Luke 13:2-3)
The call for repentance is a central theme in Jesus' proclamation of the gospel. He actually came not to call the righteous, but sinners to repentance. This is very key to gaining eternal life.
It is never the intention of the Lord that the wicked should perish, but that they should turn from their evil ways and live. This is God's will and anyone who has fallen into sin and repents of his or her sin will be saved._
We must hearken to the warning of Jesus in the gospel reading of today, that unless we repent, we will all likewise perish. We must look into our hearts and find out where we have gone astray and offended God and our neighbour. Change and begin to do well and you will find mercy from the Lord.
_It does not matter for how long you have been doing evil, it does not matter how disobedient you have been, but if you realise your failings and turn around to make amends by way of total repentance, you will be forgiven and you will become a new person in the sight of the Lord.
The opportunity to repent is now and God is ready to welcome us back. Do not wait until it is too late. Hear the voice of the Lord and change and help others to change too. True repentance will help you to be saved, therefore, turn away from your evil ways today and you will find eternal life. Just like the fig tree in the gospel, God has given us another moment to change and bear fruits for Him, we must not let it pass us by.
Good morning dearest one. Smile😊as you do your work and do have a wonderful weekend. May Jesus give you the grace to change and become better in words and actions. Amen. *And may the Almighty God bless you: the Father and the Son and the Holy Spirit. Amen.
Meditation:* Ephesians 4:7-16/Psalm 122:1-5/Luke 13:1-9
Watch-Word:* Turn away ftom your sins and you will have eternal life.
If you have sinned, be humble and ask God for forgiveness. Make amends and become a better person and you will find eternal life.
(Saturday of the Twenty ninth week in the ordinary time, year II.)