A WORD FOR TODAY 25 APRIL 2020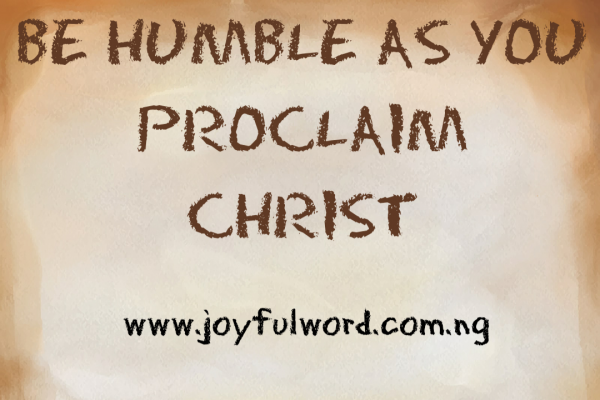 A WORD FOR TODAY
BE HUMBLE AS YOU PROCLAIM CHRIST
"Clothe yourselves, all of you, with humility toward one another, for God opposes the proud, but gives grace to the humble. Humble yourselves therefore under the mighty hand of God, that in due time he may exalt you."
Today the Church celebrates the feast of Saint Mark, Evangelist. He was a cousin of Barnabas and was with Saint Paul during His first missionary journey and later on He also became a disciple of saint Peter and assisted Him in proclaiming the Good News of Salvation.
In the first reading of today, St. Peter encourages us to clothe ourselves with the garment of humility, because it is only by so doing that we will be able to proclaim the name of Jesus and win souls for Him. God loves the humble and opposes the proud.
Humility is a virtue that helps us to be like Jesus whom we are following. Everything He did from His birth to His death was carried out in humility and in obedience to His Father. Therefore, anyone who wish to follow Him and proclaim His name must be humble as He was humble.
Humility brings exaltation to those who place themselves under the mighty hand of God. This means that when you humble yourself to do God's will and let His plans be done in your life, you will definitely be rewarded by Him as our Lord Jesus Christ was rewarded, which we have recorded in Philippians 2:6-11.
Jesus in the gospel reading commanded His disciples to go into the world and proclaim the Good News. This is a task we must carry out on a daily basis, knowing that God will be with us because He has given us power and authority to speak in His name, but this power should make us to be humble and not proud.
A proclamation of the name of Jesus in humility will help you to win more souls for Him, but when you fill your hearts with proud attitude, you will proclaim yourself and you will be brought low on the last day. In humility we must always let the Lord know about our needs and this virtue will also help us to be at alert in our spiritual battle so that the devil will not come to deceive us and make us lose the eternal crown of glory.
If you want to please God, be humble in words and action, if you want to win souls for Christ, be humble. If you want to conquer the devil and his temptations, be humble. If you want to shine out as the light, be humble and if you want to be exalted on the last day and receive the reward of everlasting life in heaven, you must be humble.
Good morning dearest one. Smile😊as you do your work and do have a splendid weekend. May Jesus' example of humility spur you on to be humble always in words and deeds. Amen. And may the Almighty God bless you: the Father and the Son and the Holy Spirit. Amen.
Meditation: 1 Peter 5:5-14/Psalm 89:2-3,6-7,16-17/Mark 16:15-20
Watch-Word: Cast all your anxieties on Him because he cares about you.
Humility opens doors and makes miracle to happen. Be humble and you will be happy in this life and in heaven.
(Saturday of the Second week of Easter. Cycle A. Feast of St. Mark, Evangelist.)