A WORD FOR TODAY 25 FEBRUARY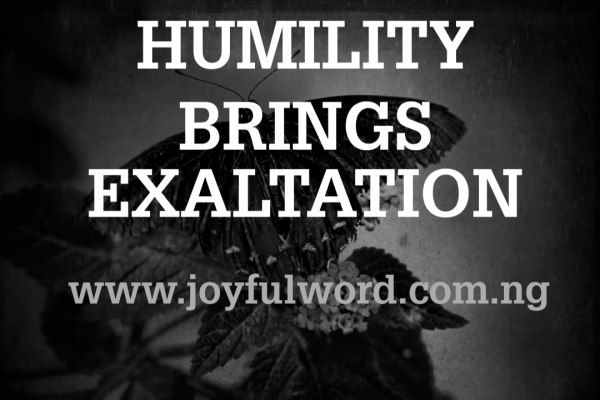 A WORD FOR TODAY
HUMILITY BRINGS EXALTATION
One thing we must learn with certainty in this life is that God's ways are not the ways of men and anyone who truly wants to be a follower of Christ must be ready to follow God's standard and not the standard of the world. If one insists to be a friend of the world, then he or she will definitely be in enmity with God.
Humility is a virtue that anyone who truly wants to be like Jesus must possess, because you can never please the Lord if your actions does not proceed from a heart that is humble and loving. To be great is not a crime, but the standard of measurement of your greatness is what is most important. For the world, the great man or woman is the one who has too much wealth and connections, but for God it is the one who humbles himself or herself and places his or her gifts at the service of others.
God loves a humble person and He gives more grace to him or her, but He opposes the proud and detests such attitude. If you must be a friend with Jesus you must learn from Him and be humble in words and deeds and at the appointed time your exaltation will come._
You are nothing without God and whatever you think and feel you have achieved is simply by His grace. Therefore, brag about nothing, but with simplicity and humility, continue to place yourself and your gifts at the service of others and this will help you to get your reward of exaltation when the time comes.
To be great in the eyes of the Lord and in accordance with heavens way is to be the servant of all. Jesus is God, but in humility He came to us as man and served us and as a result of His humility and obedience to the Father's will, He was exalted and given the name that is above every name. We can get our exaltation from God if we humble ourselves and die for others for the sake of God._
Learn to be humble even if you are the boss or CEO in your office, establishment and institution. Act and speak with humility to those who are under you. Treat them with respect and love and they will continue to pray to God to bless you more and to give you more exaltation in life. Humble words and actions will go along way to make you great in the sight of the Lord, than things done with pride and desire to show off and play to the gallery and win human applause.
Get yourself ready for tomorrow we are starting the lenten season. It is a special time in the Church and you can gain more Graces if you apply yourself well to the teachings and practices of lent.
Good morning dearest one. Smile😊as you do your work and do have a beautiful day. May God help you to be humble and may He exalt you in due time both here on earth and in heaven. Amen. And may the Almighty God bless you: the Father and the Son and the Holy Spirit. Amen.
Meditation: James 4:1-10/Psalm 55:7-11,23/Mark 9:30-37
Watch-Word: Humble yourself before the Lord and He will exalt you.
Never act to humiliate people, but act with humility to make them feel great and honoured and God will lift you up to a greater level.*_
(Tuesday of the Seventh Week in the Ordinary Time, Year II)