A WORD FOR TODAY 25 JULY 2019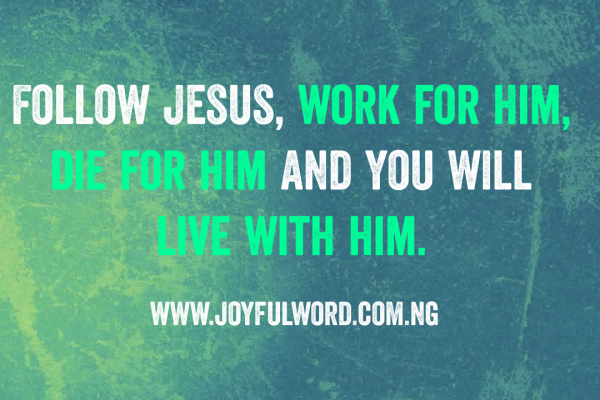 A WORD FOR TODAY
Today we celebrate the feast of the Apostle saint James. He was the brother to saint John the evangelist who were called by Jesus while they were fishing with their Father Zebedee and they left everything and followed Him. The Lord called him and he answered and he devoted his life in proclaiming the Good News.
He paid the supreme sacrifice of martyrdom for the sake of Christ and today the Church celebrates him for his heroic virtue and also presents him as an example for us to emulate. He died for his faith in Christ and the Lord has rewarded him with eternal life in heaven.
Anyone who choose to follow Christ must be ready to lay down his or her life for His sake. You must be ready to serve others as Christ did and in the end if you lose your life you will find it in Christ, because He will give you a place in His kingdom.
If you want to be powerful and counted as great in the sight of God and men, you must not follow the standard of the world in pursuit of greatness, you must do it by God's standard which is the way of service to the people. You must humble yourself and become the servant of all. You must be ready and willing to die for others to live, you must be ready to stand for others to sit.
Anyone who is not ready to pay the supreme sacrifice cannot be a disciple of Jesus. You may suffer pain and death here on earth, but in the end your sorrow will turn into joy, because God will welcome you into eternal life and reward you with the beatific vision.
If we are in Christ, the affliction and persecution we experience will never crush us, because He will give us the grace to persevere till the end. We must strive everyday to always be with Him and to do our best to proclaim the Good News to all men and women of our world in words and deeds so that through us many souls will come to be saved as saint James did.
Meditation: 2 Corinthians 4:7-15/Psalm 126:1-6/Matthew 20:20-28
Watch-Word: Those who are sowing in tears will sing when they reap.
Follow Jesus, work for Him, die for Him in the people and in the end you will live with Him in heaven.