A WORD FOR TODAY 25 NOVEMBER 2019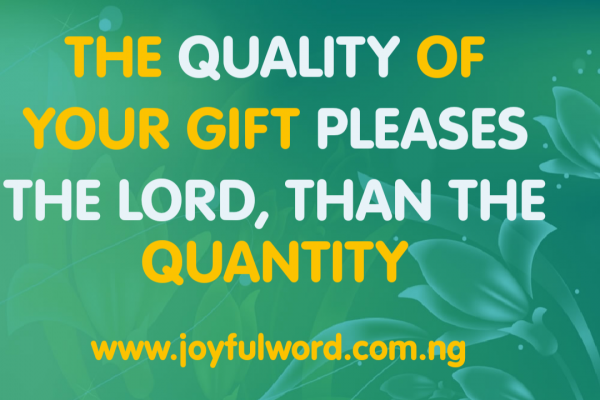 A WORD FOR TODAY
THE QUALITY OF YOUR GIFT PLEASES THE LORD, THAN THE QUANTITY

In the first reading of today we see how Daniel and his friends professed their faith in God when it mattered most. They went the extra mile to stand with God and God stood with them and made them to come out the best after their trial by the king's chief eunuch. This tells us that God looks more in the heart than in our physical appearance. If we submit to Him, He will always be there to defend us and help us to be victorious. The chief eunuch looked at their physical appearance and was afraid that they will put him into trouble if he did what they want, but in the end he was wrong, because God was with them.
The other youths ate from the King's rich food, but Daniel and his friends ate only vegetable and water, because they do not want to defile themselves and at the end of their trial, their appearance was better than the others. This is a good teaching that anyone who truly puts his or her trust in God will always have God speak for him or her at the appointed time. Daniel and his friends were sincere in their hearts and God seeing the beauty of their soul stood by them and gave them wisdom and understanding more than all the king's magicians and enchanters.
From time to time demands are made on us to prove our faith. In such moments we must stay true to our commitment as disciples of God. We must show God through our action that we love Him and He will also stand by us and help us to overcome every challenge and obstacle that may be on our way. Daniel and His friends found favour in the sight of the chief of the eunuchs and he granted their demand. When we are with God, He will make things work out for us in a manner that will surprise us._
In the gospel reading we see Jesus praise the widow for giving the best gift. In appearance, her two copper coin is nothing compared to what the other rich persons has put in, but in the sight of God, her gift is the best because she put in all that she has to depend on. Her action qualifies for a reckless and sacrificial giving. She was not thinking of tomorrow when giving the Lord. She believes in divine providence and her total dependence was on God. The quality of her gift was second to none, because she gave from her heart in love.*_
The size of your gift does not really matter, but the intention of giving. God is not moved by the size of our gifts, but by the love in the heart that gives. If we give out of love, God will accept it, but if we give just to make a show of ourselves and possessions and to intimidate others, then our gifts will be nothing before the Lord. The widows action teaches us to always depend on God who can give us the best gift. We must never try to please the people and disobey God. It is better to be on the side of God and do His will than to do things to please the people and in the process displease God.
_*Good morning dearest one. Smile😊 as you do your work and do have a blessed new week. May God's favour rest upon you and may you succeed as you place your trust in Him. Amen. And may the Almighty God bless you: the Father and the Son and the Holy Spirit. Amen.*_
*Meditation:* Daniel 1:1-6,8-20/Daniel 3:29-34/Luke 21:1-4
*Watch-Word:* You are to be praised and highly exalted forever.
_*Every giving that will be acceptable before the Lord must be sacrificial in nature. Such giving must come at a cost which sometimes are painful, but the gains are unquantifiable.*_
(Monday of the 34th Week in the Ordinary Time, Year 1)