A WORD FOR TODAY 26 DECEMBER 2019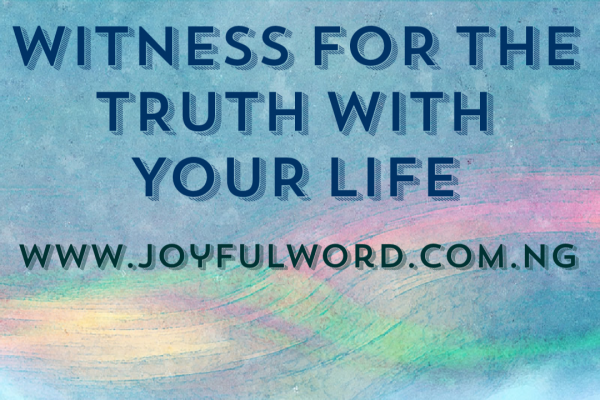 A WORD FOR TODAY
WITNESS FOR THE TRUTH WITH YOUR LIFE
Today we celebrate the feast of saint Stephen, the first martyr. He followed the example of Jesus and layed down his life for His sake and as a ransom for those who killed him.It will be very surprising and difficult for anyone who does not have faith to understand why the Church should fix this feast talking about the martyrdom and death of a person just a day after we rejoiced about the nativity of our Lord Jesus Christ. One can say that there is no connection between the two feasts, but on a very close examination we can see and make the connection. Jesus Christ came into the world and was born for a purpose. His birth brought light to a world full of darkness and in bondage and through His death on the cross He will pay the price for our sins and will deliver us from the dominion of sin and darkness and transfer us to the kingdom of light. Therefore, anyone who wish to be His disciple must be ready to die for others in the course of witnessing for the truth.
The message at Christmas is that Jesus Christ was born for us, but He was born for a purpose, that is, He will lay down His life for our salvation in the course of His life. Therefore, anyone who wants to be His disciple must be ready to do what He did and be ready to carry his cross and follow Him.
In the first reading of today we are presented with the account of what happened to saint Stephen. He was killed simply because he witnessed for Christ. The people who could not do what he did became jealous of him and made a plot to destroy Him. He was filled with the Holy Spirit and spoke with wisdom. They killed him for speaking the truth, but he forgave those who killed him just as Christ forgave those who crucified Him on the cross.
Saint Stephen learnt from Jesus Christ and when the opportunity came for him to put his learning into practise, he did not disappoint His master. He gave his life for the sake of Christ and also forgave those who stoned him to death. He has become an inspiring example of Christian martyrdom to any soul who wish to follow Jesus and to die for His sake.
Jesus reminds us in the gospel reading of today that those who follow Him must experience persecution and people will reject them and hate them simply because they profess His name. However, He is telling us to remain steadfast and do not be afraid, because He will be with us and will deliver us. If we make up our mind to follow Jesus, we must be ready to witness for the truth and to die for the truth.
Saint Stephen is an example of courageous witnessing and humble disposition to accept to die for the sake of the one whom you love. He gave His life with joy, because he knew he was doing the right thing. We must learn from him to always give our life for the sake of Christ by doing good things and by helping others to come to find mercy and love in Christ. Do not give up in your times of persecution, but hold unto Jesus and persevere till the end and you will become victorious.
Good morning dearest one. Smile😊as you do your work and do have a wonderful day. May saint Stephen's martyrdom inspire you to be willing and ready to die everyday in the course of your work and activities for the sake of Christ. Amen. And may the Almighty God bless you: the Father and the Son and the Holy Spirit. Amen.
Meditation: Acts 6:8-10;7:54-59/Psalm 31:3-4,6,8,16-17/Matthew 10:17-22
Watch-Word: Into your hands, O Lord, I commend my Spirit.
To follow Jesus, you must be ready to die for the truth and also forgive those who will kill you for speaking the truth.