A WORD FOR TODAY 26 JANUARY 2020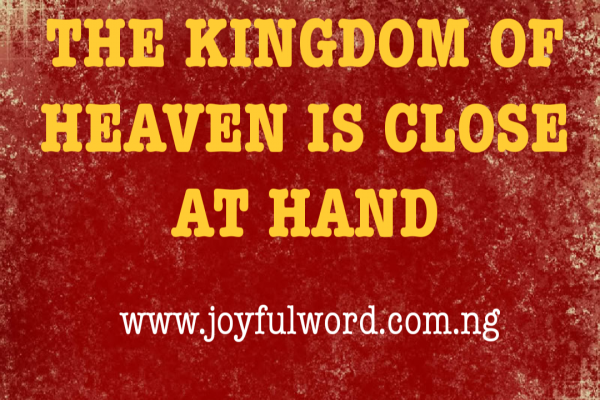 A WORD FOR TODAY
THE KINGDOM OF HEAVEN IS CLOSE AT HAND
Jesus came with the mission of proclaiming the Good News for the salvation and redemption of humanity. He gave everything in fulfilment of this task and in the end His sacrifice paid off, because all those who accepted Him and believed in the message He proclaimed were saved.
The call of Peter and his brother Andrew and the two sons of Zebedee, James and John in the gospel reading of today by our Lord Jesus Christ is nothing else but God's love in action. They were called by Jesus to come and work for Him. They were chosen to be the instrument that will spread God's light, goodness and mercy to the entire world.
Jesus is the light of the world and anyone who follows Him will not walk in darkness. He has let His light shine upon us and we must now become vessels that will continue to shine this light wherever we go and through our proclamations of God's love many souls will be saved._
The task of proclaiming the Good News is not something we must take lightly. We must be serious with it because the Kingdom of Heaven is close at hand. Souls need to be saved and we must collaborate as children of God to continue to show people the way that leads to Christ which is also the way that leads to heaven. Feed your soul everyday with God's word and you will have something to good to share with others when you see them.
Jesus has shown us what it means to be in the light. We must repent of our sins and accept His light so that it will transform us and by so doing we shall speak about Him to all those who encounter us. We must, as saint Paul admonishes us in the second reading of today to work for what will unite us and not what will divide us. We belong to Christ and Him we must proclaim always.
The kingdom of heaven is close at hand and we must stay focused on our mission of proclaiming Jesus while hoping to see Him in heaven on the last day. We must unite as we proclaim Christ and by doing so many will come to believe in Him and repent of their sins when they see us practise what we preach.
Today is Sunday of the Word of God as declared by the Holy Father Pope Francis in his special Apostolic letter "Aperuit Illis" of 30th September 2019, that every third Sunday of the Ordinary Time of the year will be set aside for this celebration. It is a day we are reminded once again of the need to love God's word as food for our soul. This year is the Year of the Word of God, therefore, get a bible, read and meditate on the word of God daily, share the word of God with others and make sure that you live out what you read from the scriptures. Without God's word we are empty and dry and we will be lost, but when we are filled with His word, we can do exploits in His name. Love God's word and let it be your guide in what you say and do.
Good morning dearest one. Smile😊as you do your work and do have a magnificent Sunday. May the light of Christ shine upon you and may you spread the message of eternal life everywhere you go. And may the Almighty God bless you: the Father and the Son and the Holy Spirit. Amen.
Meditation: Isaiah 9:1-4/Psalm 27:1,4,13-14/1 Corinthians 1:10-13,17/Matthew 4:12-23
Watch-Word: The Lord is my light and my salvation!
Proclaiming Christ crucified is a mission we have and that we must do in words and deeds.
(Third Sunday of the Ordinary Time, Cycle A: Sunday of the Word of God)