A WORD FOR TODAY 26 MARCH 2020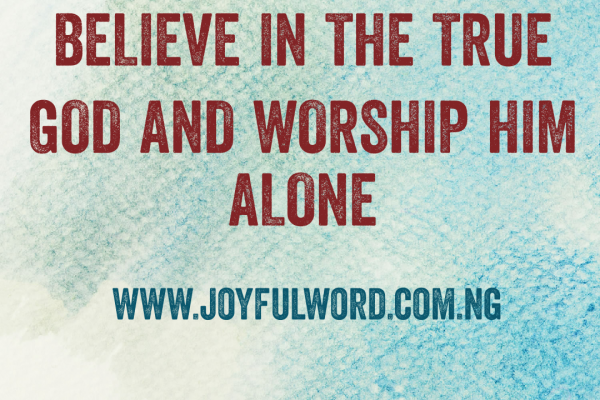 A WORD FOR TODAY
BELIEVE IN THE TRUE GOD AND WORSHIP HIM ALONE.
There is nothing that pains more in the heart than when you are working hard to do good to people and they treat you badly and keep doing the things that will make you angry by abandoning the good path you have created for them, to follow other gods.
God did a lot for the people of Israel to bring them out of the land of slavery. Moses was the leader whom God chose to guide them as they moved to the promised land, but the people abandoned the living God and started worshipping idol.
God's anger burned and He wanted to destroy them, but Moses' intercession saved them from the wrath of God. Moses pleaded with the Lord to temper justice with mercy and the Lord granted his prayers.
The people failed to listen to God and to his servant Moses as we have recorded in the first reading of today and they followed other gods that cannot save. They also failed to listen to Jesus the Son of the living God and this came at a cost.
We must learn from the readings of today not to be a stiff-necked people like the people of Israel, but to have a disposition to listen to God and the leaders He has chosen to lead us. We must also learn from the attitude of Moses, who inspite of all that he suffered in the hands of the people, still stood in the gap between them and God and obtained for them God's mercy and forgiveness.
We must discipline our heart so that we do not abandon the living God to chase after other gods that cannot save us. We must listen to God's instruction and carry them out as He has laid it down for us, because He knows what will be good for us. We must strive also to be merciful to others as God shows us mercy always.
Good morning dearest one. Smile😊as you do your work and do have a wonderful day. May God bless and keep you and give you a heart that will be obedient to the commandments of God. Amen. *And may the Almighty God bless you: the Father and the Son and the Holy Spirit. Amen.
Meditation: Exodus 32:7-14/Psalm 106:19-23/John 5:31-47
Watch-Word: O Lord, remember us with the favour you show to your people.
Do not be impatient and ababdon the living God to follow other gods that will not help or save you in your times of distress.
(Thursday of the fourth week of lent. Day 26)