A WORD FOR TODAY 26 MAY 2020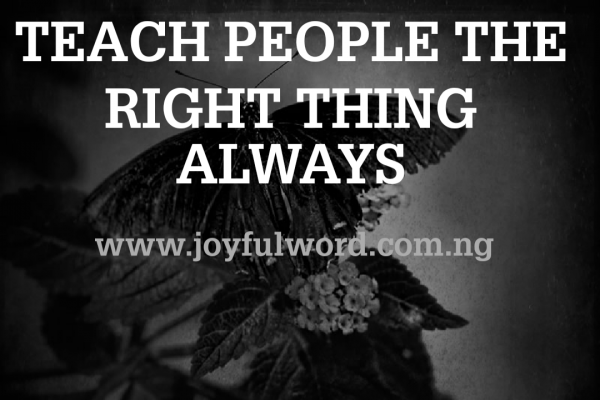 A WORD FOR TODAY
TEACH PEOPLE THE RIGHT THING ALWAYS
"You yourselves know how I lived among you all the time from the first day that I set foot in Asia, serving the Lord with all humility and with tears and with trials which befell me through the plots of the Jews; how I did not shrink from declaring to you anything that was profitable, and teaching you in public and from house to house" (Acts 20: 18-20)
When you are saddled with the responsibility of taking care of others, it is very important that you teach them the right and positive things that will add value to their lives. Positions of leadership is not just a status for celebration, but more importantly one for service and if you lead people aright, they will also become instruments of right and honourable living.
St. Paul in the first reading of today spoke to the christian community in Ephesus as he was on his way to Jerusalem where he was going to suffer for the sake of the gospel. He reminded them of how he served God in their midst and taught them only the things that were profitable which could help their faith to grow.
Anyone who is ready to teach the right thing and stand on the side of truth must be prepared to suffer in the hands of the enemies of the truth. However, if the person perseveres, he or she will be rewarded with eternal life in the end. We must use our position in life to mentor people in the right way and not lead them astray.
In the gospel reading, Jesus prayed to the Father to glorify Him as He has glorified the Father here on earth. He taught us the way to the Father and gave us the word of life. Everything He did was to take us away from the dominion of darkness and bring us into the kingdom of light. He showed us a wonderful example by His way of life and anyone who follows Him will not walk in darkness. We must learn from Him to also continue to teach others the good things we have learnt from Him so that we will prepare souls for eternal life._
Use your position today to teach people the right thing that will add value to their lives and not something that will destroy them or make them to lose focus and remain in darkness. We must be ambassadors of Christ in goodness so that when our end comes, we will receive the crown of eternal life in heaven.
Good morning dearest one. Smile😊as you do your work and do have a wonderful day. May Jesus help you to teach truth to those who look up to you. Amen. And may the Almighty God bless you: the Father and the Son and the Holy Spirit. Amen.
Meditation: Acts 20:17-27/Psalm 68:10-11,20-21/John 17:1-11
Watch-Word: You kingdoms of the earth, sing to God.
Do the right thing always, teach and mentor people to follow the right way and God will be proud of you and He will reward you in the end.*_
(Tuesday of the Seventh week of Easter. Cycle A)