A WORD FOR TODAY 27 APRIL 2020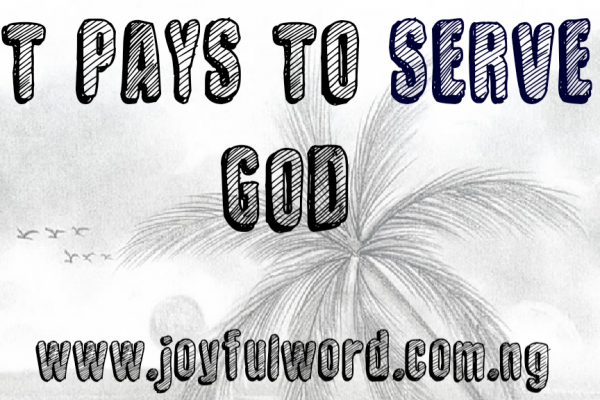 A WORD FOR TODAY
IT PAYS TO SERVE GOD
_And Stephen, full of grace and power, did great wonders and signs among the people. (Acts 6:8-15)_
The first reading of today tells us about a holy man called Stephen. He did a lot of good among the people, because God was with him, but some of the people conspired and bore false witness against him so as to destroy him. They instigated men to lie against him so as to destroy him.
One may simply ask, what has he done to them to deserve this level of betrayal and wickedness? The answer is just that he chose to be in the light and those who were fighting to destroy him chose to remain in darkness. He chose to work for God, but he also suffered for God and it is a suffering that will merit him a place in His kingdom.
Choosing to work for God is something nice and wonderful, infact it pays to serve God, but it has to be stated clearly that the one who serves God and is ready to do the right thing, will also be ready to face persecutions in the hands of the people, but God will never abandon the person.
If you choose to do the right thing in life and serve God, you will be ready to experience what Stephen went through in the course of his witnessing for Christ. Yes, he suffered, but his sufferings did not stop him from doing what is right and from condemning evil. Injustice, wickedness, hatred false witnessing and other forms of evil still exist in our world and it is not perpetuated by spirits but by human beings and sometimes people who claim to be Christians. Where do you belong? those who pull others down or those who help them to rise. You can answer for yourself.
In the gospel reading we see the people seek Jesus, not necessarily because of the signs and wonders He was doing, but because he provides food for them. They were seeking Him for the wrong reasons and He will remind them not to labour for the food which perishes, but for that which endures for eternal life. We must strive to make God our priority and in that way we will be able to love for Him and serve Him well here on earth.
Physical food is necessary for our survival, but life is not all about food. We must transcend the material to focus on things above where we will live forever with God on the last day. Jesus served the Father here on earth and today He is in heaven, if we serve God well here on earth and endure our persecutions we shall be rewarded on the last day.
Good morning dearest one. Smile😊as you do your work and do have a blessed new week. May God give you grace to serve Him well here on earth and may heaven be your reward on the last day. Amen. And may the Almighty God be bless you: the Father and the Son and the Holy Spirit. Amen.
*Meditation:* Acts 6:8-15/Psalm 119:23-30/John 6:22-29
*Watch-Word:* Blessed are those who walk in the law of the Lord.
_*Even if you suffer now because you are doing good, do not give up, because your reward will come from Jesus.*_
(Monday of the third week of Easter. Cycle A)
*Fr. Augustine Eleke*