A WORD FOR TODAY 27 DECEMBER 2019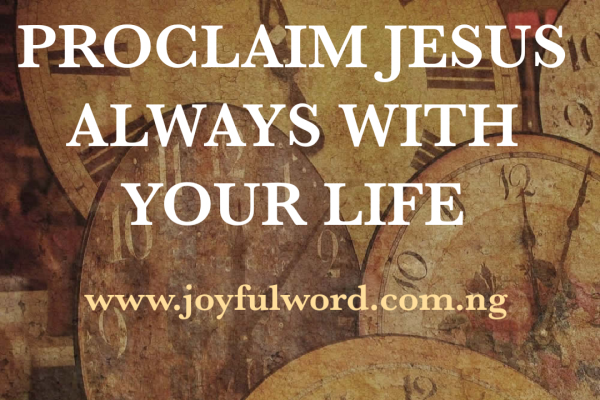 A WORD FOR TODAY
PROCLAIM JESUS ALWAYS WITH YOUR LIFE
Today the universal Church celebrates the feast of saint John the Apostle and Evangelist. He is known as John the beloved, because He was very close to Jesus and was with Him from the beginning of His ministry to the time when He died on the cross of Calvary. Infact, it was at Calvary that Jesus handed his mother over to John to take care of her and also handed John over to His Mother Mary to take care of him._
Saint John the Evangelist could be referred to as the apostle of love, because he loved Jesus and spent his life for Him. He was very committed to the cause of proclaiming the Good News and witnessing for the risen Christ of which He was a witness. When He came to the tomb as we have recorded in the gospel reading, he saw and he believed in his heart that Jesus is risen and he will go on to write and proclaim Him everywhere so that others who are yet to know Him will come to accept Him.
We cannot follow Jesus if we do not love Him, and we cannot love Him if we do not let His love for us move us to love Him by laying down our life as a ransom for others. John was loved by Jesus and He was moved by that love to reciprocate by loving Christ and by proclaiming His name everywhere. He showed people the way to Christ through His words and example and his teachings are inspiring and has made so many to come to understand our Lord Jesus Christ and what His mission is for us._
Saint John was very committed to the cause of proclaiming Jesus and He never flagged in zeal in showing it through his actions. He spoke the word of God without fear, but more importantly he loved Jesus and devoted his life to everything that concerns Him and that brings honour to His name.
The Lord has shown us love through the gift of His son our Lord Jesus Christ and this love should well up in our heart and move us to love Him back by loving our neighbour. We must become apostles of love like saint John whom we celebrate today so that we can change the face of the earth and make it to be a place where love reigns supreme and wickedness and hatred will have no place to operate and destroy._
God has chosen us as He chose saint John to proclaim the message of eternal life to everyone, especially those who are yet to come to the knowledge of Him. We must do it with love and we must let the love of God reflect in everything we do. The world needs messengers of genuine and true love who can proclaim the Good News of eternal life through their lifestyle and we could be that people if we let God's love reign in our heart.
Good morning dearest one. Smile😊 as you do your work and do have a lovely day. May God's love for you, move you to love Him by loving your neighbour. Amen. And may the Almighty God bless you: the Father and the Son and the Holy Spirit. Amen.
Meditation: 1 John 1:1-4/Psalm 97:1-2,5-6,11-12/John 20:2-8
Watch-Word: Rejoice in the Lord, you just.
Proclaim God's love with your life and you will win more souls through His love.*_