A WORD FOR TODAY 27 FEBRUARY 2020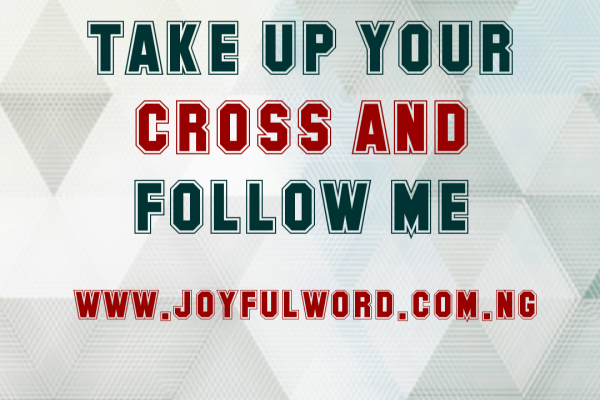 A WORD FOR TODAY
TAKE UP YOUR CROSS AND FOLLOW ME
As the season of lent kicks off, we are instructed in the readings of today to strive to do that which will please God, because it is by doing His will that we shall be happy and satisfied.
We must make the choice that will bring us God's blessings and favours in abundance. We must choose light over darkness, good over evil, faithfulness and obedience to God's commandments over worshipping of other gods. In this way we shall be fruitful and will have the opportunity to experience the manifestation of God's glory.
To follow Jesus we must make a radical decision to deny ourself, carry our cross and spend our lives everyday for His sake. This is what we see in the gospel reading of today. The cross is an inevitable part of the Christian life. It is something you cannot do without if you truly love Jesus and want to live for Him. To carry your cross is to be ready to face whatever people will do to you to hurt you for the sake of Christ. You must not let your love for yourself stop you from giving yourself totally to the service of others for the sake of Christ.
To carry your cross daily, you must be ready to spend your life for others for the sake of Christ. You must be the joy and peace of those who are sad and at war. You must the balm and voice that soothes the pain of those who are sick and in distress. You must be the comfort of the weak and the water that quenches the thirst of the tasty. Infact, you must be everything that Jesus will be for the needy.
This season of lent is a time to give yourself more for the sake of Christ. You must go the extra mile to put a smile on the faces of people even when it hurts. Giving oneself for others is a big sacrifice and only those with the heart of Jesus can do it. It could be painful to carry a cross, but in the cross will come your victory. You must conquer the flesh and its selfish cravings if you must soar higher in the spirit. God is happy when we spend our time doing what is good for humanity and brings glory to His name.
Good morning dearest one. Smile😊as you do your work and do have a fantastic day. May Jesus help you to carry your cross well so that in the end you will overcome. Amen. And may the Almighty God bless you: the Father and the Son and the Holy Spirit. Amen.
Meditation: Deuteronomy 30:15-20/Psalm 1:1-4,6/Luke 9:22-25
Watch-Word: Blessed the man who has placed his trust in the Lord.
Do not give up because of the physical pain of the cross you bear for Christ, something good will come out of it.
(Thursday After Ash Wednesday)