A WORD FOR TODAY 27 JANUARY 2020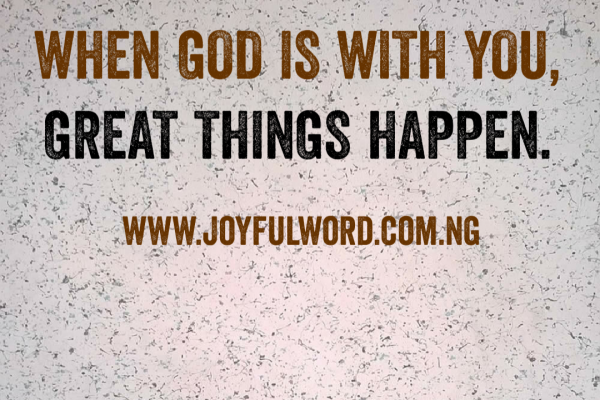 A WORD FOR TODAY
WHEN GOD IS WITH YOU, GREAT THINGS HAPPEN
There is nothing that gives confidence in the heart, but to know that you have God by your side at all times. It makes you to stay strong even in the face of hardship and persecution. The fact that God is with us is already a moral booster to anyone who believes, because with Him by your side you will conquer all things.
David in the first reading of today became a king who ruled over all the kingdoms of Israel. He was just a little boy when he was chosen for that task, but he stayed focused and was able to fulfil his mission as a king because He let God's will be done in his life.*_
God was with him and he did great exploit in His name and by His power. We can do the same if we let God be with us. We must submit under His authority and guidance and we must let Him reign supreme in our lives. We will overcome challenges and difficulties in His name and His grace will be sufficient for us.
If God has chosen you for a task, no power can stop you, because He will be with you and help you to fulfil and actualize your goal. He is a loving God who cares for us and is always interested in what happens to us. He will be with us through 'thick and thin' and He will defend and protect us in moments of danger.
Our responsibility is to do what God has mandated us to do and if we do it well and people fail to accept us, they will be the ones to blame and not us. The Scribes in the gospel reading of today accused Jesus of casting the demons with the power of the devil, but that did not stop Him from doing good for He knew that He was saving lives and He would not allow the jealousy of the scribes to be an obstacle to the good work He was doing.
Keep doing good and let God make use of you always. Everyone may not accept you and you may sometimes suffer persecutions, but do not let it stop you from doing what is right. Make sure God is with you always and you will achieve greater good in His name.
Good morning dearest one. Smile😊as you do your work and do have a blessed new week. May God be with you and may His presence protect you from danger. Amen. And may the Almighty God bless you: the Father and the Son and the Holy Spirit. Amen.
Meditation: 2 Samuel 5:1-7,10/Psalm 89:20-22,25-26/Mark 3:22-30
Watch-Word: My mercy and my faithfulness shall be with Him.
When God is with you, you may suffer, but He will never abandon you and in the end those who looked down on you will come to ho our you.
(Monday of the third week in the Ordinary Time, Year II)