A WORD FOR TODAY 27 JUNE 2020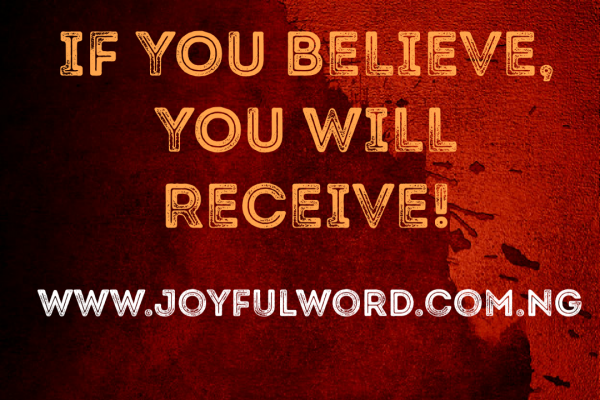 A WORD FOR TODAY
IF YOU BELIEVE, YOU WILL RECEIVE
"But the centurion answered him, "Lord, I am not worthy to have you come under my roof; but only say the word, and my servant will be healed. For I am a man under authority, with soldiers under me; and I say to one, 'Go,' and he goes, and to another, 'Come,' and he comes, and to my slave, 'Do this,' and he does it." (Matthew 8: 8-9)
We said yesterday in our reflection that we are bound to experience some needs in our life from time to time and what we do at such moments will either help us to find solution or we remain in that need for a long time. The leper realised that he needed Jesus and he did not hesitate to seek him out even when it was forbidden by the law.
Today in the gospel reading we see the centurion approach Jesus to seek His help for the healing of one his servants who was sick and lying paralyzed at home. He came to Jesus irrespective of the fact that he was a great man and has so many people working under him. He put his status aside, humbled himself, came with Faith before Jesus and with compassion and love in his heart for the good of his servant, he pleaded with Jesus to come and help his servant.
Jesus was ready and willing to go with him to his house to heal his servant, but the centurion now took his faith to another extraordinary level when he said to Jesus, "Lord I am not worthy to have you come under my roof; but only say the word, and my servant will be healed".*_
This expression of faith was very profound and it moved Jesus to say to his disciples that he has never found such a faith in Israel. Indeed, the request of the centurion was granted because he believed and he prayed with humility. We must learn from Him to always pray to God and recognise in Him the one who can help us in our times of need.
If you believe, you will definitely receive. God is ready to hear us and answer us if we pray and pray well with faith. Faith is very vital, important and necessary for our prayers to be answered. The centurion had faith and he made a move of faith to see Jesus. Infact, he put his faith into action, he was humble, he acknowledged his sins and unworthiness before Jesus and asked for His help. He was indeed a good man with a good and compassionate heart who cares for the good of the other.
We must never go to God in prayer empty, we must raise our faith level and by so doing we will definitely find answers to the requests we present before Him. God is ready and willing to come to our aid, but most times we come before Him without faith and a heart that prays and a voice that cries out without faith will never receive anything from the Lord.
Come to Jesus with faith today, present your needs and the needs of others before Him and see Him do for you what you cannot do for yourself. He is merciful and He can heal all infirmities and restore us in all ramifications of our life. Just strive to believe in Him and you will receive blessings and favours of breakthrough, healing, upliftment, promotion and other miracles in abundance. If you believe, you will surely receive.
Good morning dearest one. Smile😊as you do your work and do have a splendid weekend. May your faith in Jesus help you to receive the miracle you seek. Amen. And may the Almighty God bless you: the Father and the Son and the Holy Spirit. Amen.
Meditation: Lamentations 2:2,10-14,18-19/Psalm 74:1-7,20-21/ Matthew 8:5-17
Watch-Word: Christ took our infirmities and bore our diseases.
Do not pray if you have no faith, first, pray to the Lord to increase your faith and then pray with faith and your prayers will be answered, because faith in God makes miracle to happen.
(Saturday of the twelfth week in the Ordinary Time. Year II)